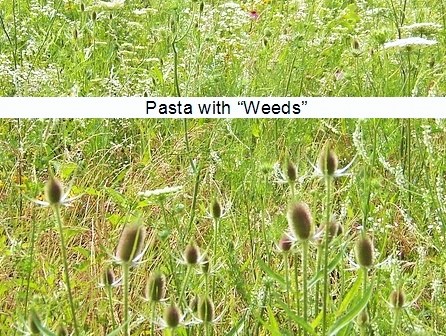 Everyone always said that my grandmother could cook weeds and make them taste good. Well, she really did cook weeds. This is true cucina povera – the land owners got the good produce and the poor got the rest.
---
Pasta with Dandelion Greens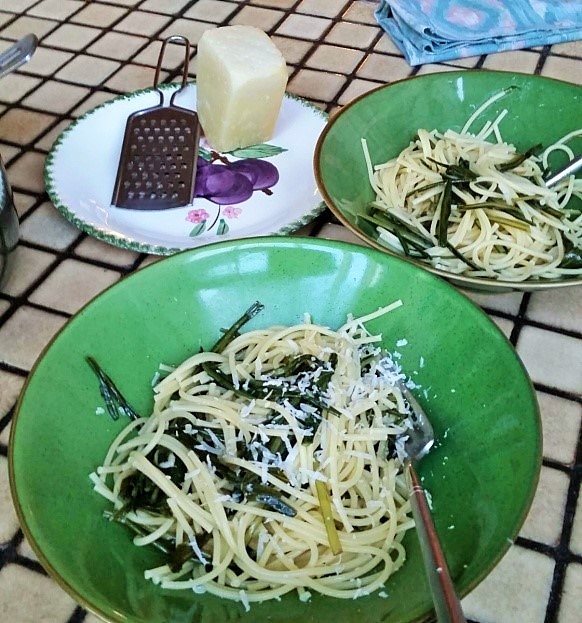 Dandelion greens can be somewhat bitter. A sprinkle of grated parmigiana offsets the bitterness.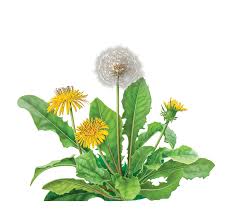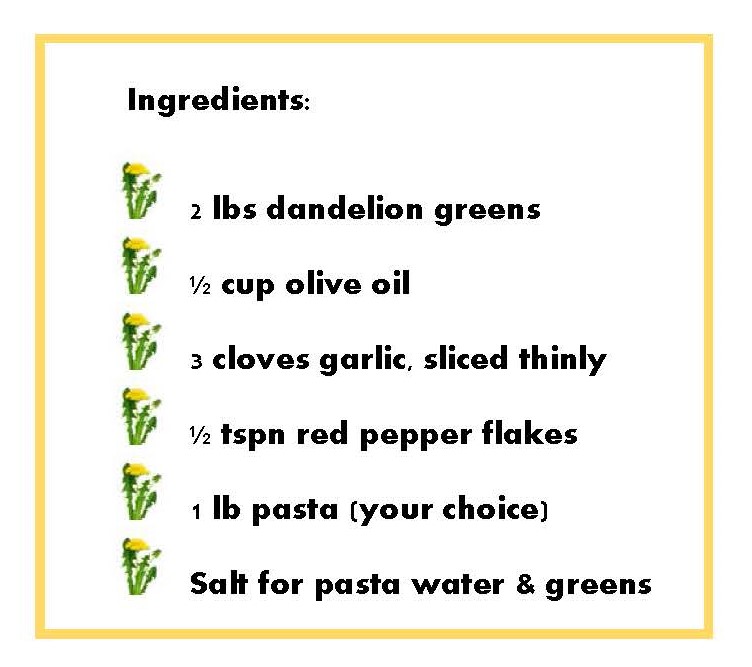 Preparation:
Bring a pot of salted water to a boil. Trim and discard stem ends and cut greens into 2 inch pieces. Wash in a sink full of cold water to remove any sand. Place in boiling water for 10 minutes and drain thoroughly. Don't discard the water.
Place pasta in the same water you used to boil the greens. Allow to boil for 8 to 10 minutes. In the meantime, heat the oil in a pan and add garlic, salt and red pepper. When the oil gets hot and the garlic starts to color add the greens and toss. When the pasta is almost done add to the pan and toss with the greens adding ½ cup of the pasta water. Serve with grated parmigiana.
---
Pasta with Kale and Plum Tomato Sauce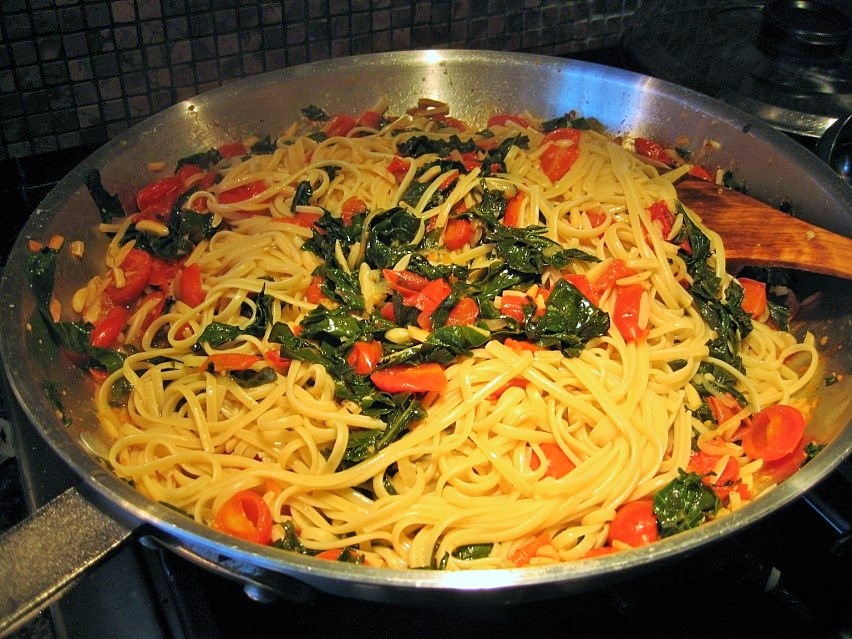 Kale is good for you and very popular lately but it used to be something that only goats ate. If you really want too eat it, make it like this and it won't be too bad. (For some reason, October 7th is Kale Day. Go figure.)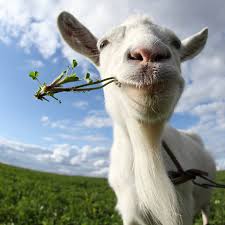 Preparation:
In a large pan, sauté the onion, garlic, S&P and a little red pepper. Add the kale and tomatoes, tossing frequently. Add a little pasta water and cover so it steams. When the kale is wilted and the tomatoes soft, add the pinoles (pine nuts) and a little more pasta water. When the pasta is almost done add to pan and toss with sauce to finish cooking. Serve with grated cheese.
---
Pasta with Broccoli Rabe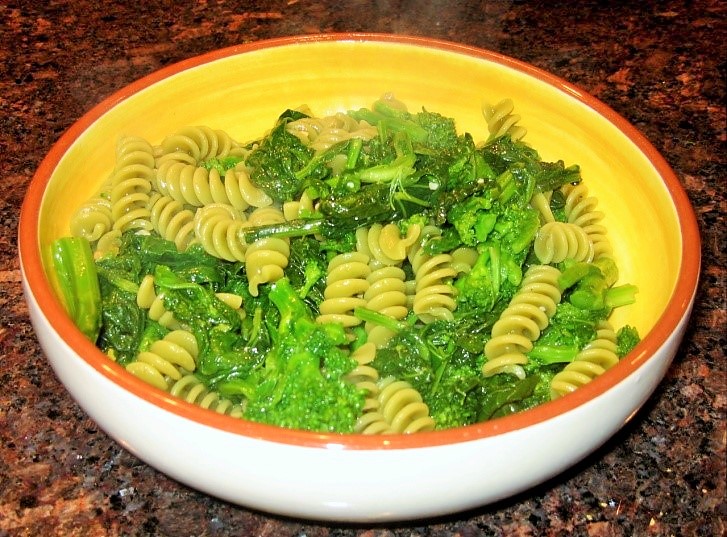 It's still too bitter for some but over the years broccoli rabe has moved up from the weed category. It's become trendy and you can find it on the best restaurant's menus but it wasn't always that way.
Heat chopped garlic in oil. Add washed broccoli rabe (or arugula or other greens) that are still wet and sauté with the garlic and oil. Add S&P, cover and steam. When it wilts, toss with pasta. This recipe also works with other greens. If you're using something with hard stems like broccoli or bok choy, boil it until tender before sautéing. A little cheese isn't bad on this.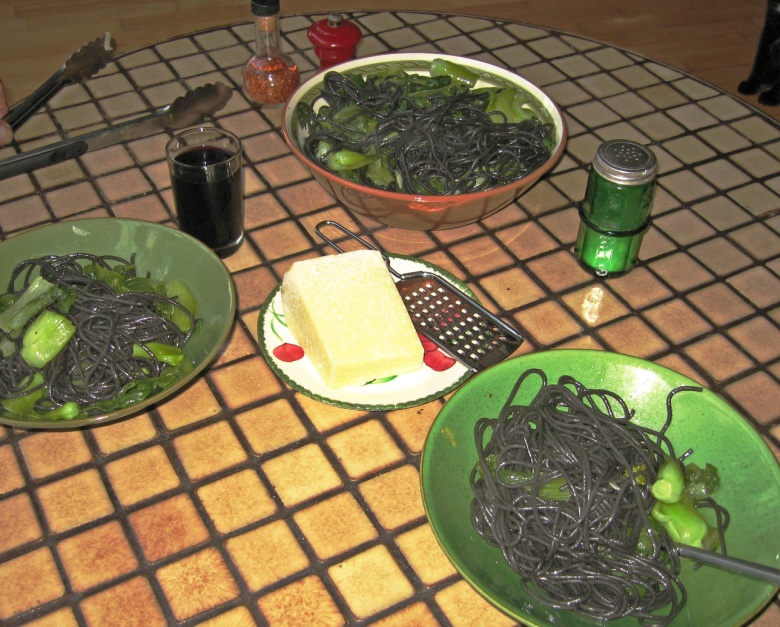 Spaghetti al Nero Sepia con Bok Choy
click here for "Today's Photo"