Roasted Peppers
---
Roasted Red Bell Peppers
Good on sandwiches or in antipasto.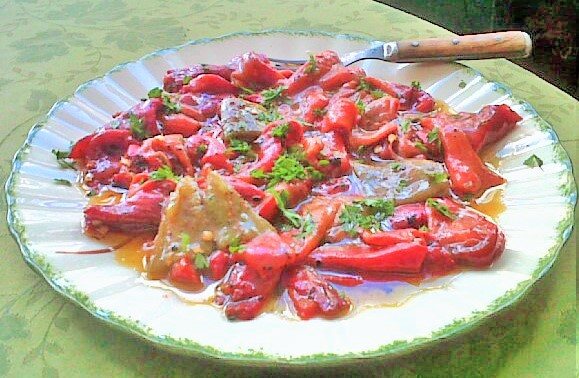 Char peppers over a gas burner set on high, turning frequently, until skin is blackened and blistered on all sides. Transfer to a bag or a bowl and cover tightly; let stand 15 minutes.
Rub the skin off peppers with the back edge of a knife (without rinsing), remove and discard cores and seeds. Cut peppers into smaller pieces. Don't worry about some of the black char remaining on the pieces
In a bowl, gently toss together peppers, oil, parsley, salt and pepper. Let stand at room temperature 20 minutes before serving.   You can refrigerate left overs in a jar. Make sure to top it off with oil. Serve at room temperature.
---
Jalapeno Brochettes
They can be very hot.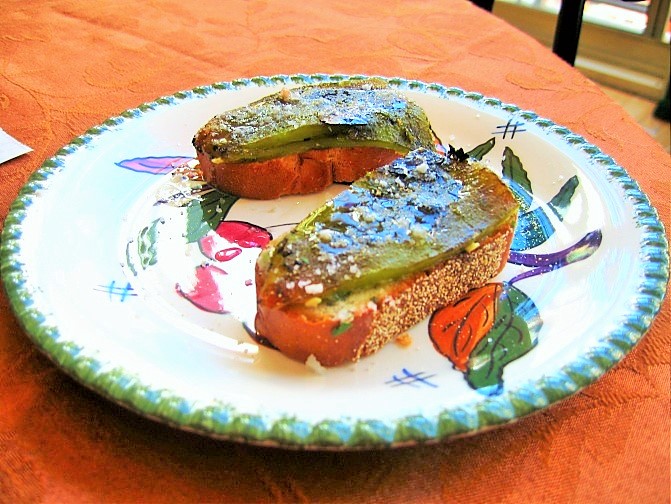 Roast jalapenos on an open flame until blackened. Put them in a bag to sweat until cooled. Scrape off most of the blackened skin, slice and remove veins and seeds.
Put them on a piece of bread, drizzle with olive oil, sprinkle with garlic power and coarse sea salt.
---