Reverse Seared Steak
I've heard about this method of cooking a steak and decided to give it a try. The standard for a thick steak is, sear the steak and finish cooking it in the oven. As the name implies, this reverses that. Don't try this unless you steak is at least 1 ½ inches thick. I'm using a 2-inch rib eye.

Ingredients:
1 steak (at least 1 ½ in. thick and your choice of cut)
Salt and black pepper
1 tbsp. olive oil
3 tbsp. butter
1 crushed clove garlic – optional
1 sprig of rosemary – optional
Season the steak with salt and pepper, the edges too. Place it on a wire rack set in a rimmed baking sheet. Place it uncovered in the refrigerator overnight to dry out. This step is optional but do it if you have time.
Preheat the oven to anywhere between 200 and 275°F (93 and 135°C). The lower you go, the more evenly the meat will cook.
Put the baking sheet, rack, and room temperature steak in the oven, and roast until it reaches an internal temperature about 10 to 15°F below the final temperature at which you'd like to serve the meat. Time in the oven is about 20 minutes for rare.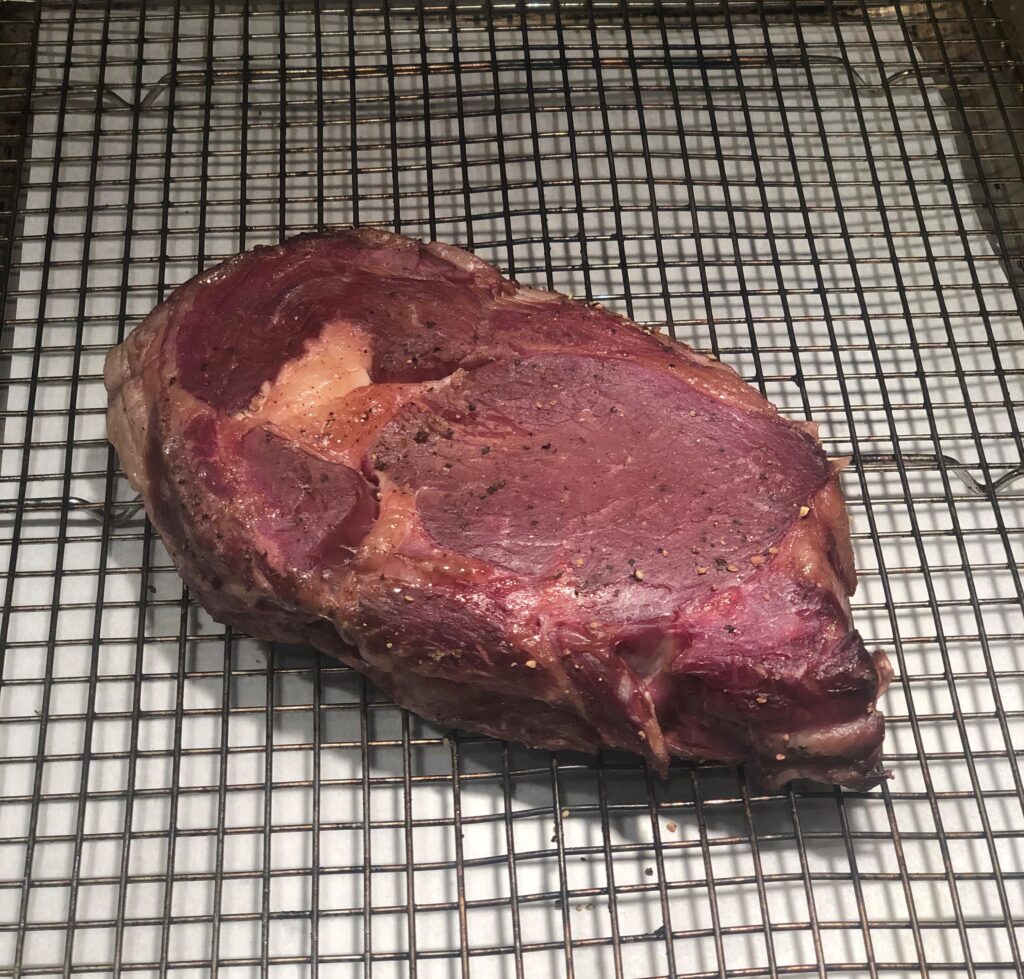 ---

When you take the steak out of the oven, add a tablespoon of olive oil to a frying pan on a very high heat. When the pan is hot begin searing the steak. Holding it with tongs, start with the the edges. Lay the steak down and add the butter (and garlic/rosemary, if using). Tilt the pan and spoon the melted butter over the steak. Flip the steak and do the other side. This should take only about 35-40 seconds per side for a good sear.


---
Slice and serve the steak. It's not necessary to rest the steak before cutting if you're using the reverse sear method.
---

Some other steak cooking methods here. 
Click here for updated GALLERY
Portfolio and Yelp