Pasta e Patate (pasta and potatoes)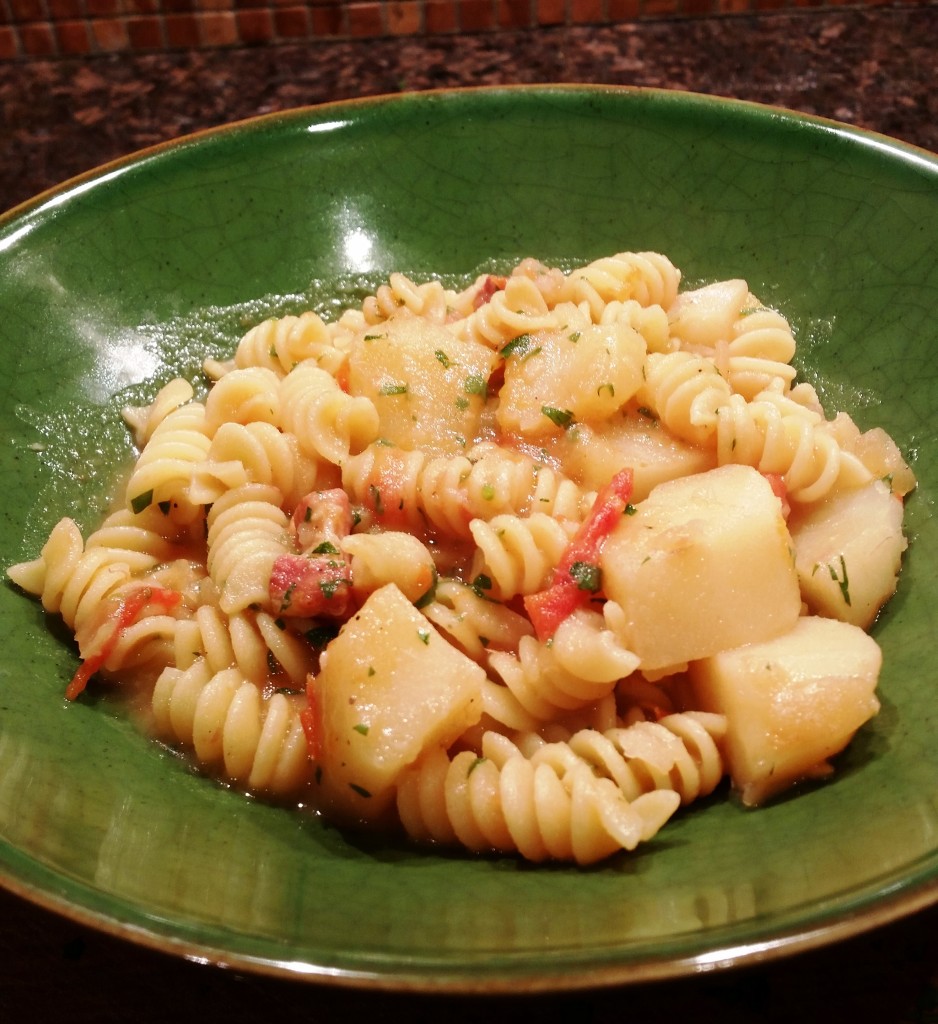 This is just about the height of La Cucina Povera. What's less expensive and more filling than pasta and potatoes to feed a hungry family? My mother made this fairly often because it was a family tradition but would never serve it to guests – it wasn't good enough. She pronounced it in Napolitano dialect as basta badon. It's really a minestra, that is, sort of a soupy pasta with vegatables.
A quarter pound of meat for a little protein and extra flavor – some parsley to give a bit of color to a white on white dish, and there you have it. Recently my teenage granddaughter Molly came for dinner with a group of her hungry friends. We served six or seven courses with this as the pasta course. Of course it didn't have the traditional poverty connotation for them and they said it was their favorite course of the dinner. Food doesn't have to be expensive to be good.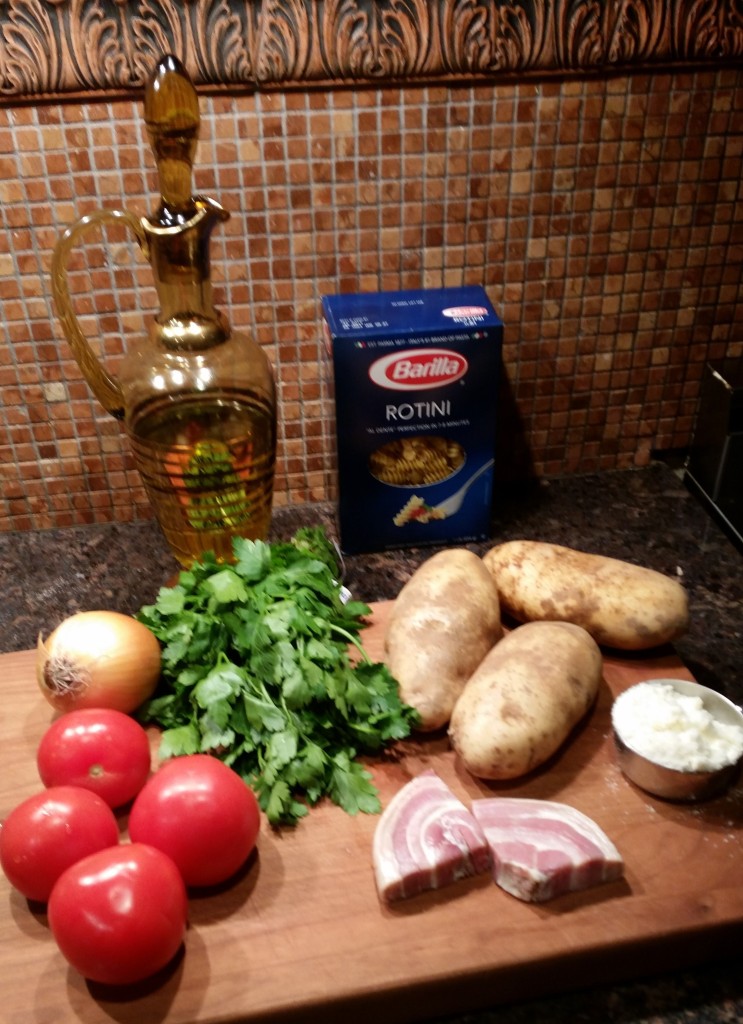 Ingredients:
¼ lb pancetta (or prosciutto) cut into small pieces
1 medium onion
olive oil
4 small tomatoes, skinned, seeded and chopped
3 Idaho potatoes cut into 1 inch cubes
salt & black pepper
1 lb small pasta
5 oz parmesan cheese
2 tbsp finely chopped parsley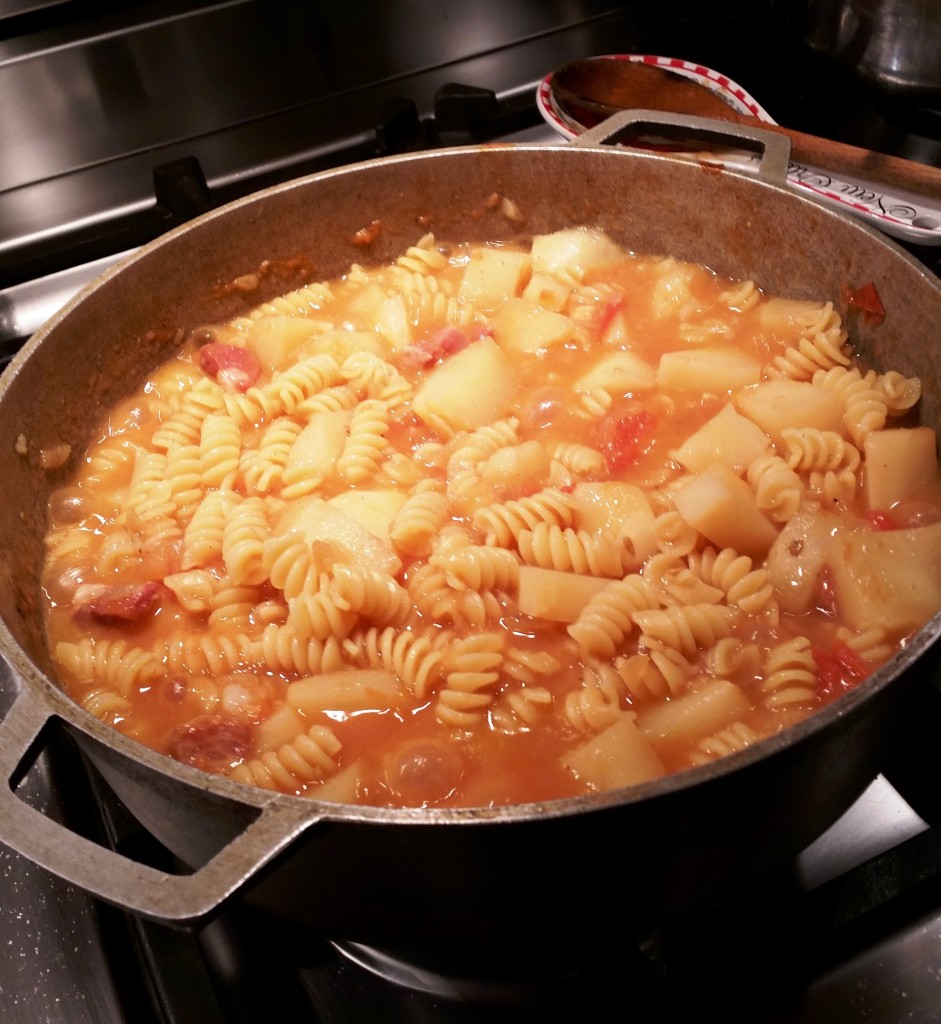 Preparation:
Sautee the pancetta and chopped onions until lightly browned. Add the tomatoes and stir until they release their juice. Add potatoes and mix. Cover just barely with water and simmer for 15 to 20 minutes, until the potatoes are almost done. Remove about 1 cup of the soup, puree it and return it to the pot.
Drain the pasta when it is almost done, saving the water. Add the pasta to the soup to finish cooking and also add as much pasta water as you need to make a soupy consistency. Mix in the cheese. Sprinkle with parsley for a little color and serve with additional parmesan cheese.