Grill Pan Lemon Broccoli and Peppers
This is a big recipe. You can serve half of it hot, and the next day serve the remainder as a salad.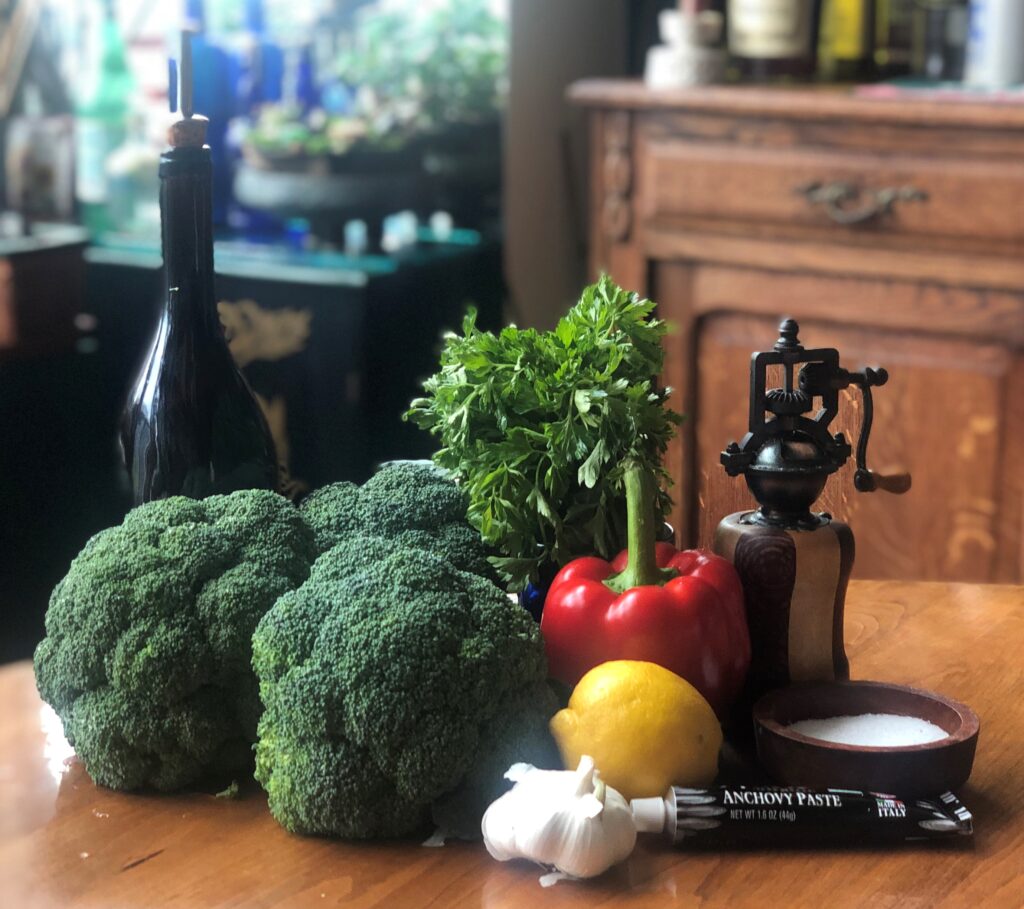 Ingredients:
2 broccoli heads (about 1 ½ lbs.)
Olive oil for frying and drizzling
1 red bell pepper cut into thin strips
6 cloves thinly sliced garlic
1 tbsp. anchovy paste or 5 anchovies
1 large lemon cut into 8 thin rounds and 1 tbsp.  juice
2 tbsp. chopped parsley
Trim the broccoli into small florets with some stem remaining. Bring a large pot of salted water to a boil and add the broccoli. Blanch the broccoli for 5  minutes, drain and set aside.
Bring about 5 tbsps. of oil to medium heat in a frying pan and add the peppers. Fry for 10 minutes, add the garlic and anchovy paste. Blend and cook for 5 more minutes. If you're using whole anchovies, cook until they break down.
---
Heat a well-oiled grill pan. Toss the blanched broccoli with 3 tbsps. oil. Once the pan is hot, grill the broccoli, turning so there are grill marks on both sides.
Grill the lemon slices for 1 – 2 minutes on each side to get a nice char. Chop the slices and add to a bowl with the parsley, 1 tbsp. lemon juice and 2 tbsps. olive oil.

Place the broccoli in a large bowl and add the pepper mixture and the lemon/parsley mixture and toss.
Arrange in a serving platter and serve hot or if you prefer, chill and serve as a salad.
Click here for updated GALLERY
Portfolio and Yelp