Roman Grain and Greens Soup
Every so often I make a recipe with my doctor in mind. She always tells me, "Less meat and more grain and greens." Roman Grain and Greens soup is just what the doctor ordered. In addition to barley, lentils, split-peas, and chickpeas there are 5 kinds of greens.
Roman Grain and Greens Soup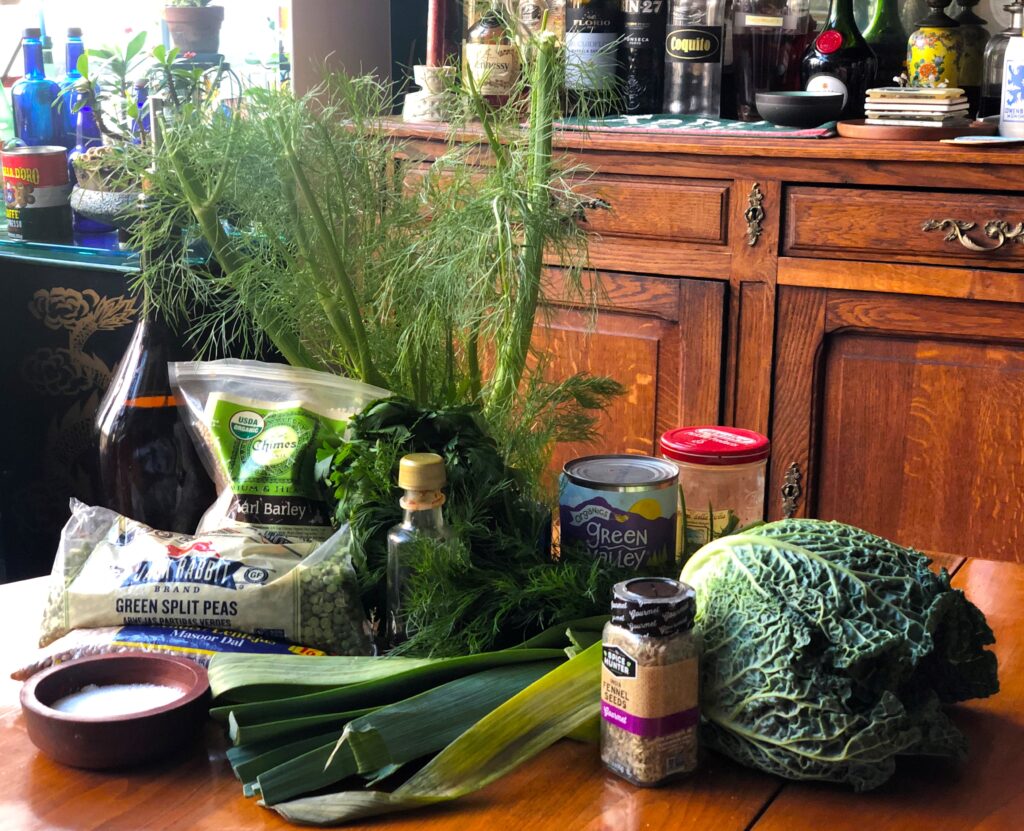 Ingredients:
1⁄2 cup pearled barley
1 cup yellow split peas
1 cup lentils
10 cups water or more
1 14 oz. chickpeas, drained and rinsed
2 teaspoons salt, plus more to taste
1 teaspoon dried oregano
1⁄2 teaspoon ground fennel seed
2 Tablespoons coloratura de alici
1 large or 2 smaller leeks, white part and 3 inches of green part, split, rinsed and chopped
3 cups coarsely chopped Savoy cabbage, packed
1⁄4 cup chopped parsley, packed
1⁄4 cup chopped fresh dill, packed
1⁄4 cup chopped fennel leaves, packed
1⁄2 cup olive oil
Place barley, peas and lentils in a heavy pot. Rinse and drain. Add water and bring to a boil. Skim off foam. Simmer, covered, stirring occasionally, until vegetables are becoming tender. Add water if too thick.
---
Meanwhile, prepare leeks, cabbage and greens. In a frying pan, cook them gently in olive oil until wilted.
---
Add the chickpeas, salt, oregano, oregano, ground fennel and coloratura de alici to the soup. Simmer 5 minutes.
---
Stir the greens into soup. Simmer, stirring frequently, just until cabbage is tender, about 10 minutes.
Taste, and add salt as needed.
Click here for updated GALLERY
Portfolio and Yelp