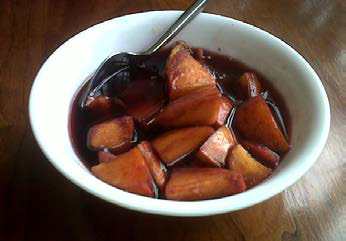 Peaches in Wine A very simple and good dessert provided you use the right peaches – the kind that drip down your wrist when you bite into them.
2 ripe peaches
2 tsps sugar
Enough Chianti to cover
Cut the peaches around the equator and then cut wedges into bite size pieces. Place the pieces in a bowl, sprinkle with sugar and toss. Allow them to sit for 15 minutes and then cover with the wine. Refrigerate and serve when chilled. Serves four.