Banana Bread Pudding
A simple recipe for Banana Bread Pudding that works as dessert or breakfast. I adapted this from Marta Rivera Diaz's recipe in the New York Daily News.

Ingredients:
For the pudding –
½ stick butter (4 pats divided)
1 cup brown sugar
3 ripe bananas divided
1 tsp. cinnamon
½ tsp. kosher salt
½ tsp. nutmeg
3 cups whole milk
2 large eggs
2 large egg yolks
¼ cup dark rum
1 tsp. vanilla extract
1 lb. day old French bread
For the toffee sauce –
1 stick butter
½ cup brown sugar
¼ tsp. kosher salt
3 tbsp. dark rum
¼ cup heavy cream
---
Prep –
Heat the oven to 350o with a rack in the middle.

Butter a 9 by 13 inch baking dish with 2 pats of butter.

          Put a cup of brown sugar and 2 ripe bananas in a large bowl and mask together with a fork until the mixture is smooth with no large chunks. Melt the remaining 2 pats of butter and add to the mix with the cinnamon, salt, and nutmeg. Mix until everything is combined. Add 3 cups of milk, 2 eggs and 2 egg yolks, ¼ cup of rum, and the vanilla extract. Mix until the bread is coated. Let it rest for 10 minutes for the bread to absorb the liquid and then re-mix.
          Pour the mixture into the pan. Slice the last banana and dot the top with the slices. Bake until it's lightly browned, about 60 minutes.
---
Make the toffee sauce –
          While the custard is baking, melt 1 stick of butter in a small pot. Add ½ cup of brown sugar, ¼ teaspoon of kosher salt, and mix while simmering for about 3 minutes until it resembles caramel. Turn off the heat so it doesn't flame and add the 3 tablespoons of rum. Turn the heat back on and whisk and simmer for about 2 minutes. Turn off the heat, add the ¼ cup of cream and whisk to combine.
When the bread pudding is done let it cool for 15 minutes and serve with the toffee sauce poured over each serving. If you have any sauce left over its good on French toast or pancakes.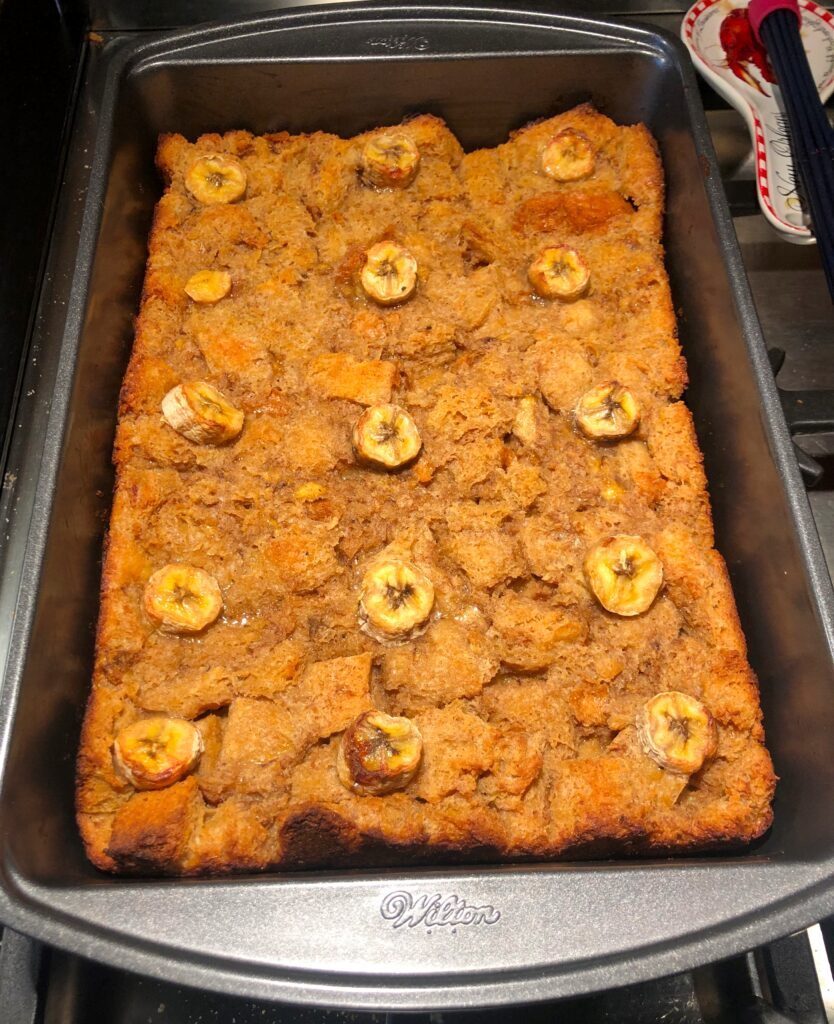 Click here for updated GALLERY
Portfolio and Yelp