Dutch Oven Roast Chicken with Vinaigrette
I got this recipe in Bon Appétit. It's a simple roast chicken with standard ingredients – onions, herbs, lemon but it's the pan-juices that make that tasty vinaigrette. 

Ingredients:
5 tbsp. olive oil divided
1 onion cut into eights
1 head of garlic cut crosswise
5 rosemary sprigs
Salt and black pepper
1 3-4 lb. chicken
½ lemon
1 cup dry white wine
2 tsp. Dijon mustard
2 tbsp. white wine vinegar
Pre-heat your oven to 425o.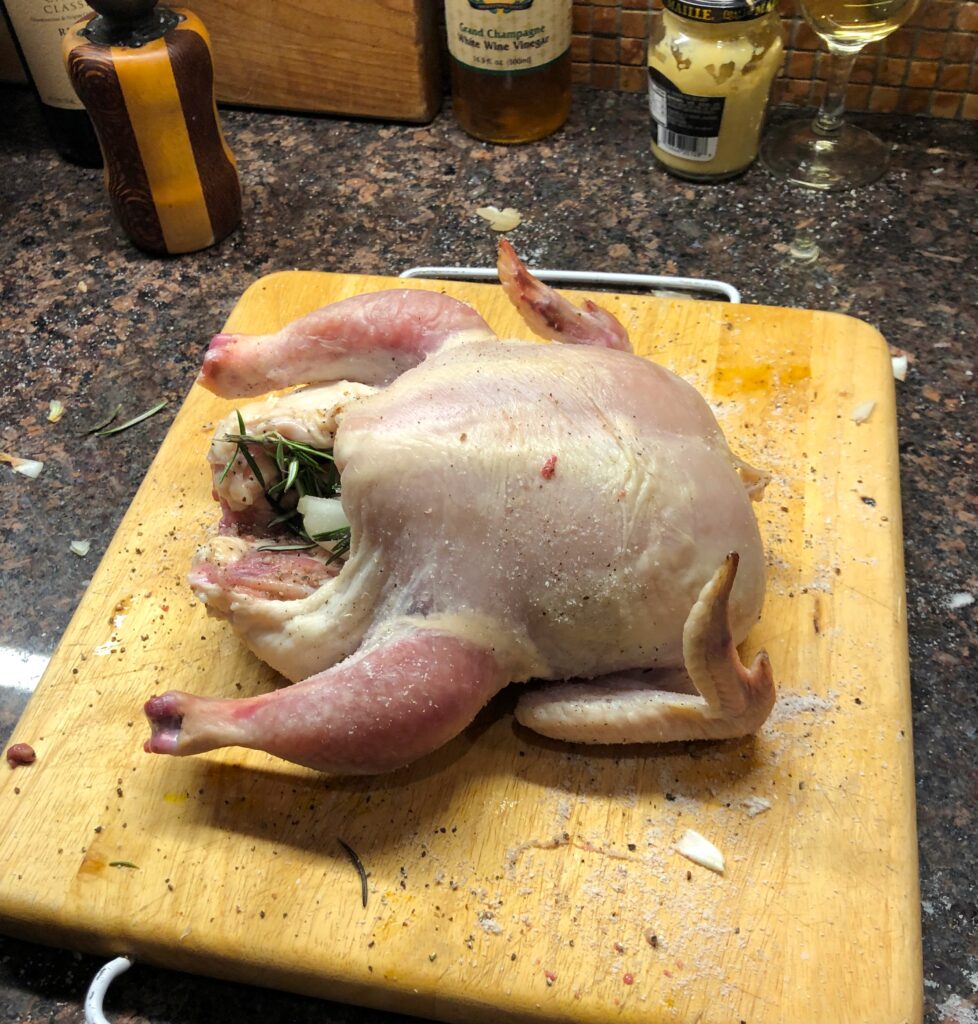 Put 3 tablespoons of oil in a Dutch oven. Add the halved head of garlic, 4 of the 5 sprigs of rosemary, salt pepper and all but one piece of the onion.  Stir to coat.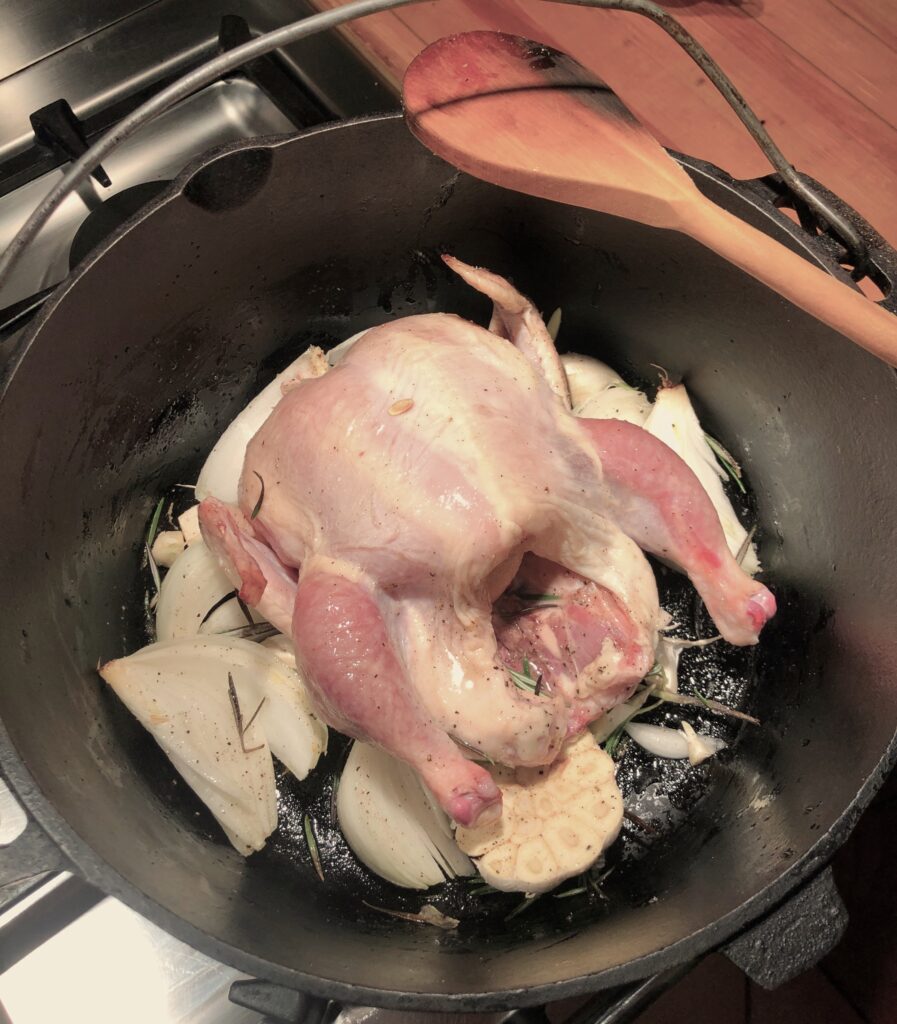 Pat the chicken dry. Coat with 1 tablespoon of oil and season with salt and pepper inside and out. Squeeze the half lemon over it and put the lemon rind, the remaining sprig of rosemary and the 1/8 slice of onion in the cavity. Put the chicken in the pot and pour in the wine and a half cup of water. Cover the pot and roast the chicken for 60 minutes. If you'd like the chicken to be browner, run it under the broiler for a few minutes. Place the cooked chicken on a cutting board and cover with foil to rest while you make the vinaigrette.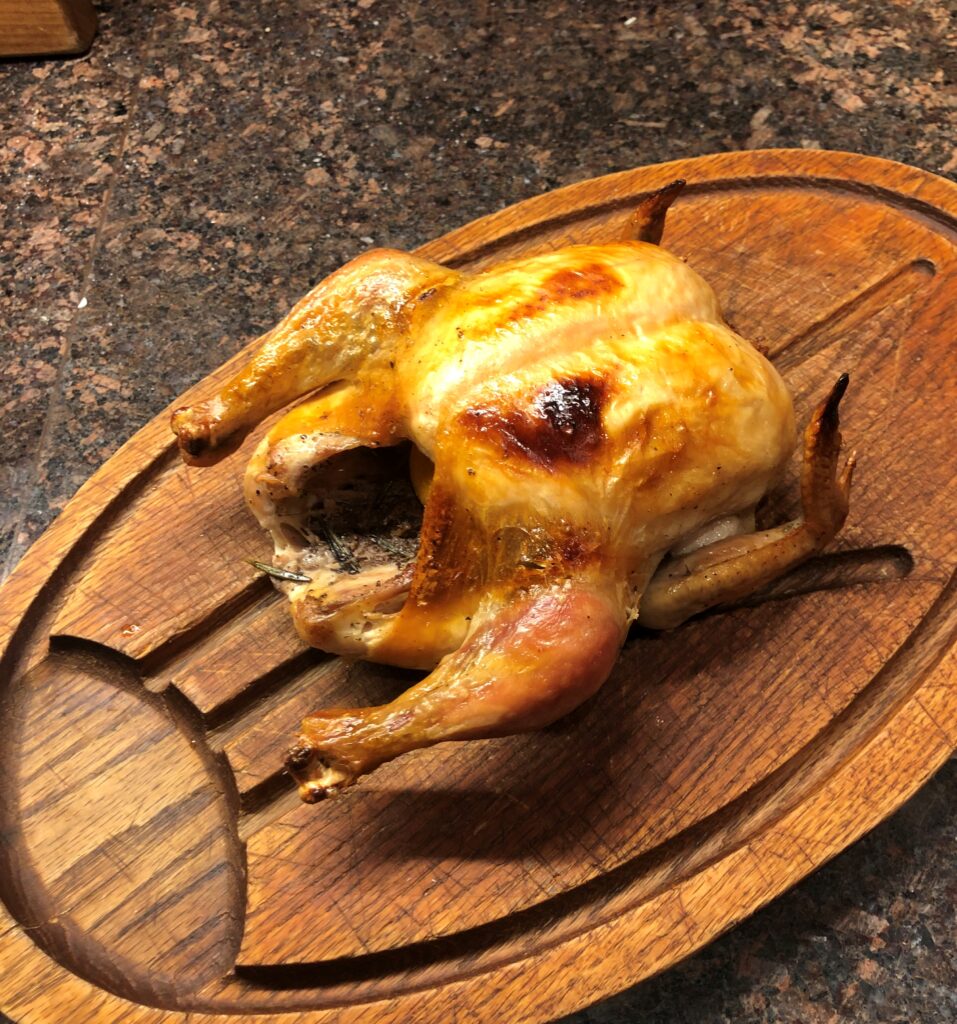 Pour out any dripping in the pot except for 2 tablespoons. Remove and discard the onions and rosemary sprigs but save the garlic. Add one tablespoon of oil and a half cup of water to the pot. Bring to a boil and deglaze. Strain the liquid into a bowl. Squeeze out about 6 to 8 cloves of the roasted garlic into the bowl. Add the mustard and vinegar, and one tablespoon of oil and whisk. Taste and add salt and pepper if necessary.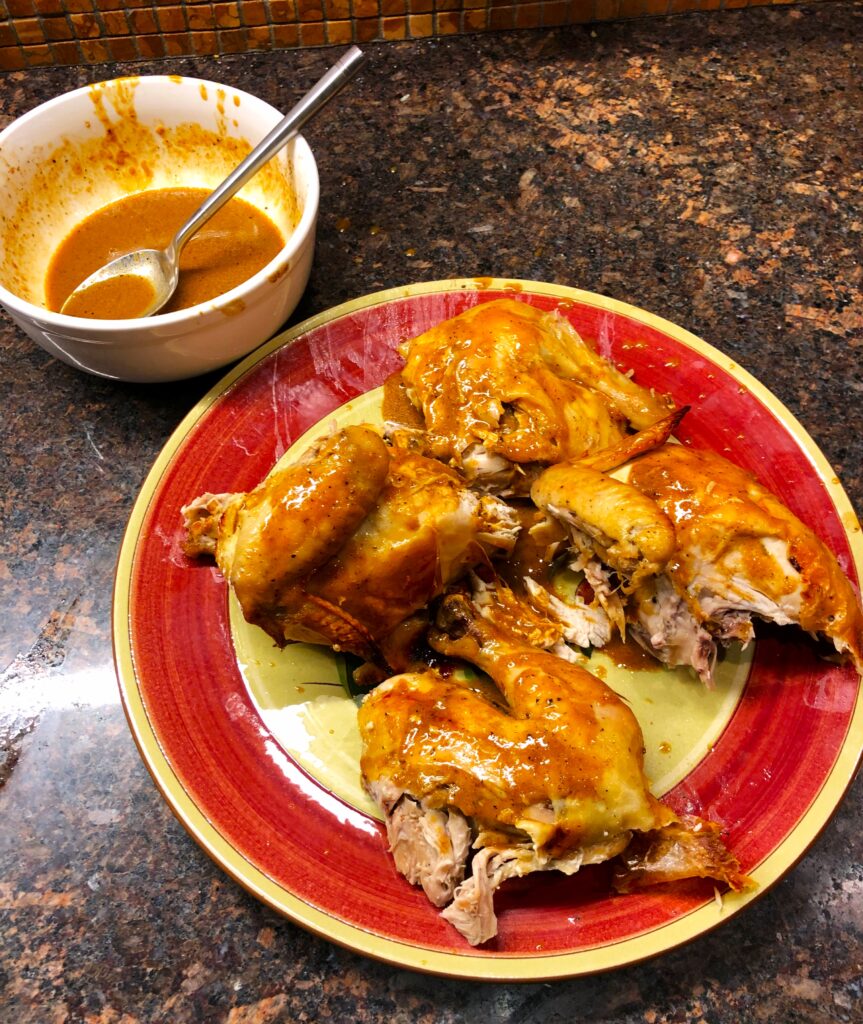 Cut the chicken into quarters – two leg and thigh and two wing and breast. Place the pieces in a serving dish and spoon some of the vinaigrette over it. Serve the chicken and pass the rest of the sauce at the table.
Click here for updated GALLERY
Portfolio and Yelp