Buffalo, Beans and Greens Soup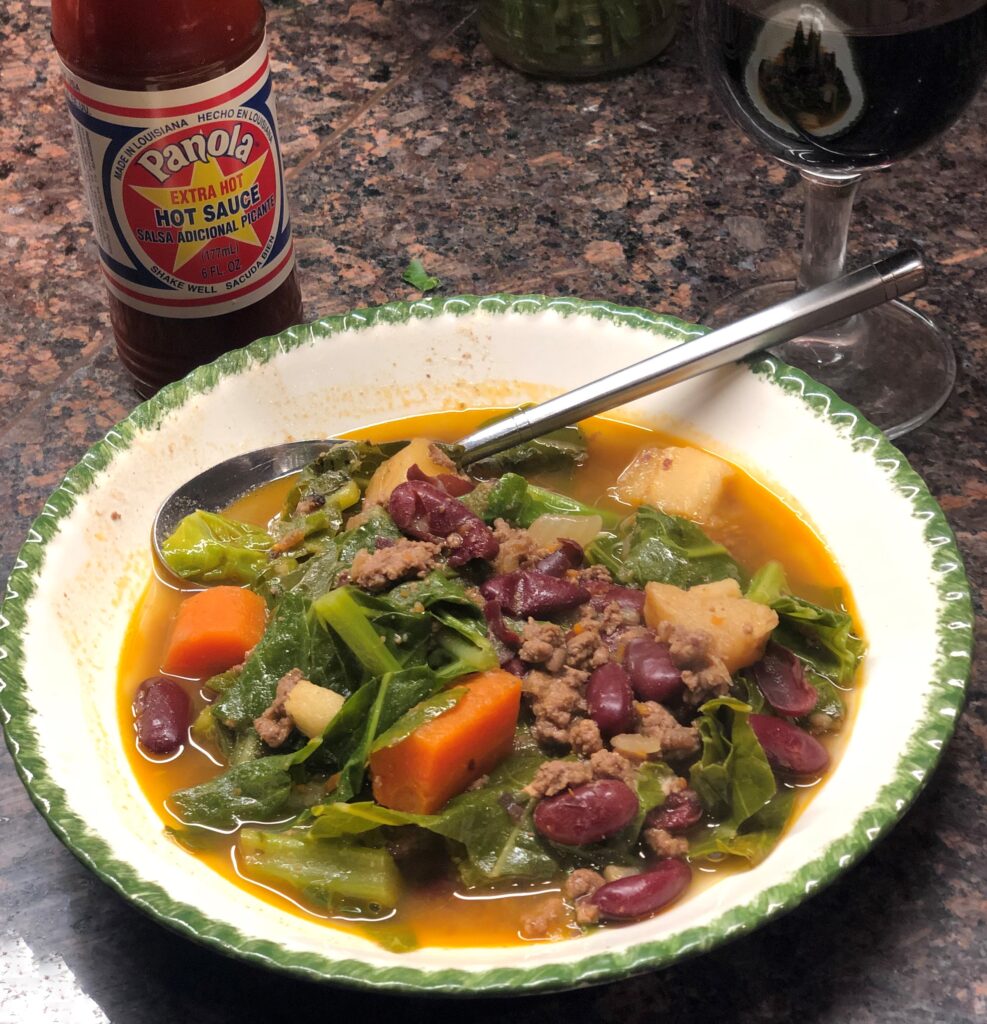 A friend recently drove cross-country from Portland to New York. She told me about a diner she stopped at in Wyoming expecting to order a burger deluxe or a BLT. Her waitress suggested their specialty, something they called Buffalo,  Beans and Greens, Soup.  She tried it and liked it enough to get the recipe. If you can't get buffalo/bison, it would work with ground beef too. You can substitute spinach or mustard greens for the collards.
---

Ingredients:
Olive oil for browning
Salt and black pepper
1 diced parsnip
1 diced carrot
1 diced onion
1 tbsp. tomato paste
2 minced garlic cloves
½ tsp. red pepper flakes (or to taste)
Salt and Pepper to taste
12 oz. ground buffalo
1 qt. chicken stock
1 – 15 oz. can kidney beans, drained and rinsed
1 bunch collard greens
½ cup chopped parsley
Heat some oil, salt and black pepper in a pot, brown the meat and remove it. Add the onion, carrot and parsnip to the pot and cook until softened, about 10 minutes. While that's cooking, wash the collards, discard the thicker stems and chop the leaves into bite sized pieces.
---
When the vegetables are done add the tomato paste, garlic, and red pepper. Mix thoroughly and then return the browned meat to the pot.

---
Add the stock and beans and simmer for 25 minutes. If you want a thicker soup, mash some of the beans and vegetables with the back of a spoon. If you want it thinner, add some stock or water
Check for seasoning and add the greens and cover. Cook for 10-15 minutes until greens are soft.
The greens will fill the pot when you first put them in, but they'll wilt in a few minutes.Just before serving stir in the chopped parsley. Serve with hot sauce.
Click here for updated GALLERY
Portfolio and Yelp