Black Pepper and Beef Stir Fry
It's the pepper that really makes a Black Pepper and Beef Stir Fry. If your pepper mill can't grind it coarse enough, put the pepper corns on a dish towel and whack them a few times with the bottom of a frying pan.

Ingredients:
3 minced garlic cloves
2 tsp. brown sugar
1 tsp. corn starch
1 tbsp. black pepper (very coarsely ground)
1 lb. sirloin steak, cut into ¼ in crosswise slices
3 tbsp. soy sauce
3 tbsp. peanut or canola oil
½ head green cabbage thinly sliced
2 tbsp. white vinegar
1 tbsp. toasted sesame seeds (optional)
1 cup sliced scallion (optional)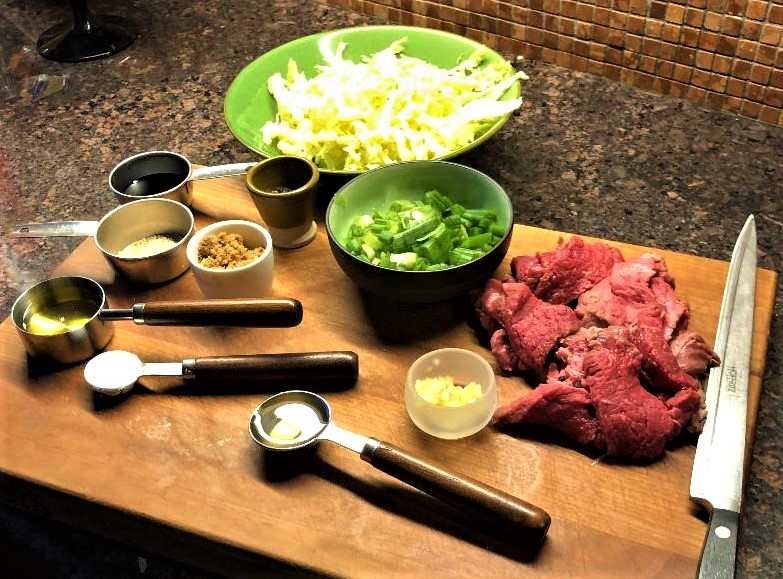 Combine the garlic, brown sugar, corn starch, and coarsely ground black pepper in a bowl. Add the sliced steak, mix, and let sit 30 minutes.

---
Heat the oil in a large pan or wok and cook the steak until it starts to brown (4 or 5 minutes). Add the soy sauce, toss with the steak, and remove it leaving the juices in the pan.
Add the cabbage to the pan and cook until it wills and begins to brown. Add the vinegar and return the steak to the pan. Add 3 tbsp. water, toss for a few minutes and remove to a serving dish and serve with rice.

Click here for updated GALLERY
Portfolio and Yelp