Pasta with Broccolini, Sausage and Beans
Pasta with Broccolini, Sausage and Beans can also be made with broccoli or broccoli rape. There's an informative article about their differences here.

---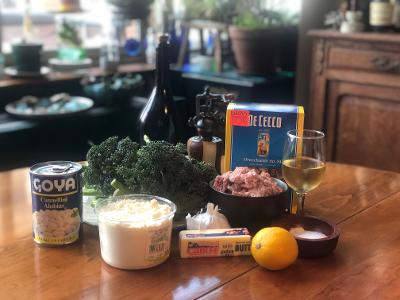 Ingredients:
1 ½ lb. broccolini, washed & stems removed
¼ cup olive oil
1 lb. Italian sausage, hot or sweet, skins removed
2 gloves, minced garlic
½ cup dry white wine
1 – 15 oz. can white beans strained and rinsed
2 tbsp. butter
½ cup grated Parmigiana cheese
½ lemon – zest & juice
Start a pot of salted water for the broccolini and later the pasta.
Remove the rough stem tips and roughly chop the broccolini and boil on high for 5 minutes or until tender. Remove the broccolini and add the pasta.
While the pasta is cooking, in another pot add the olive oil and break up and cook the sausage meat. When it's lightly browned, add the garlic and cook for 1-2 minutes then add the wine and deglaze the pot and stir for a few minutes.
---

Add the cooked broccolini and the beans. Cook on medium heat for 5 minutes. Add the pasta and a cup of the pasta cooking water and toss.

Remove the pot from the heat. Add the butter, cheese, juice of ½ the lemon and zest. Mix until the butter is melted and serve with additional cheese.
Click here for updated GALLERY
Portfolio and Yelp