Beef Ribs Braised in Red Wine

Ingredients:
4-5 pounds bone-in beef ribs

Olive oil for browning and sautéing

1 cup Trinity (onions/carrots/celery)

3 tablespoons all-purpose flour plus more

1 tablespoon tomato paste

1 bottle dry red wine

8 sprigs flat-leaf parsley

½ tsp. oregano

2 sprigs rosemary

2 bay leaves

1 head of garlic, halved crosswise

4 cups beef stock
Preheat oven to 350°. Season ribs with salt and black pepper. Heat oil in a large Dutch oven over medium-high heat. Working in batches, brown short ribs on all 6 sides. Transfer ribs to a plate. Pour off all the drippings from pot and return 3 tablespoons to the pot and use 3 for the roux.

In separate pot add 3-4 tbsps. drippings and 3 tbsps. flour to make the roux. Then add the tomato paste to the roux (don't tell any New Orleans chefs that you're doing this). If it's too dry add some more drippings or wine.

Add trinity to Dutch oven and cook over medium-high heat, stirring often, until lightly browned. Add the roux and cook, stirring until well combined. Stir in wine, then add ribs bone side up with any accumulated juices. Bring to a boil; lower heat to medium and simmer until wine is reduced by half, about 25 minutes.

Add all herbs and garlic to pot. Stir in stock. Bring to a boil, cover, and transfer to oven.

Cook until ribs are tender, about 1 hour 45 min. Transfer ribs to a platter.

Strain sauce from pot or remove herbs, garlic, onions, etc. with a spider. Mix 2 tbsps. flour with a little cold water and add to sauce. Stir until it thickens and then whisk in 2 pats of butter. Pour the sauce over the ribs and serve.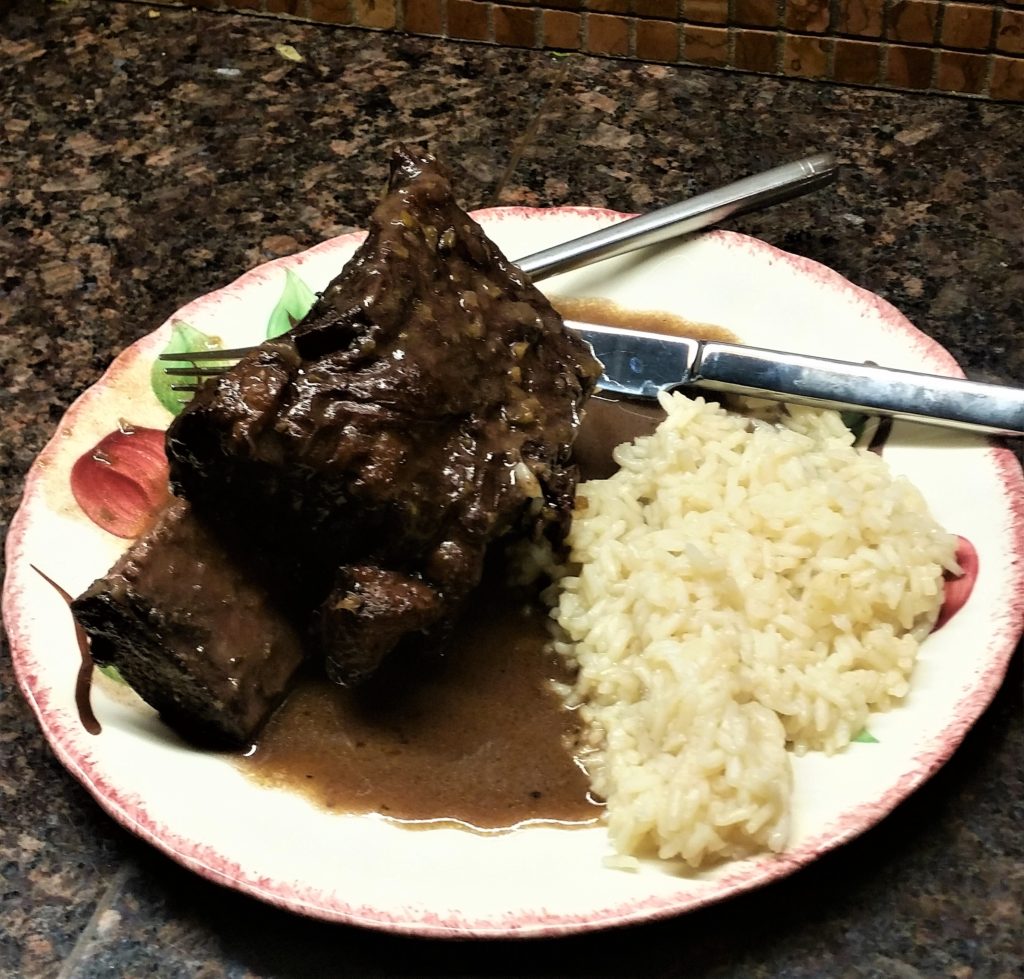 This is good with rice, spätzle or pasta.
---
 Click here for updated GALLERY II
Writing Site  and  Yelp