Pasta with Goat Cheese and Cherry Tomatoes
Adapted from Giada De Laurentiis Cavatelli with Gorgonzola and Cherry Tomatoes  (Pasta with Goat Cheese and Cherry Tomatoes)
We had dinner with our nephews Stephen, Francesco and Doug. They put together a great meal but I loved the pasta most. I think maybe my niece Danielle had something to do with this too. They used a Giada DiLaurentis recipe.

So here it is – delicious. I used goat cheese instead of gorgonzola. Giada said that would be OK. (Pasta with Goat Cheese and Cherry Tomatoes)

Ingredients:
½ lb. cavatelli (or something similar)
8 oz. pancetta, cut into 1/2-inch dice
Olive oil
2 shallots, chopped
8 oz. cherry tomatoes, halved
4 oz. gorgonzola (or goat cheese)
5 oz. baby spinach, roughly chopped
Start a pot of boiling water for the pasta.
Add the pancetta and olive oil to a large skillet over medium-high heat. Cook, stirring often until the pancetta is crispy, about 8 minutes. Add the shallots and cook another minute until fragrant. Add the tomatoes and season with salt. Cook, stirring often until the tomatoes begin to soften, about 4 minutes.
When the pasta is almost done (reserve 1 1/2 cups of pasta water) add it to the skillet along with 1/2 cup of the pasta water. Scatter the cheese over the pasta and stir to combine. Continue to stir, adding pasta water as needed, until a light creamy sauce is formed. Add the spinach and toss until it wilts.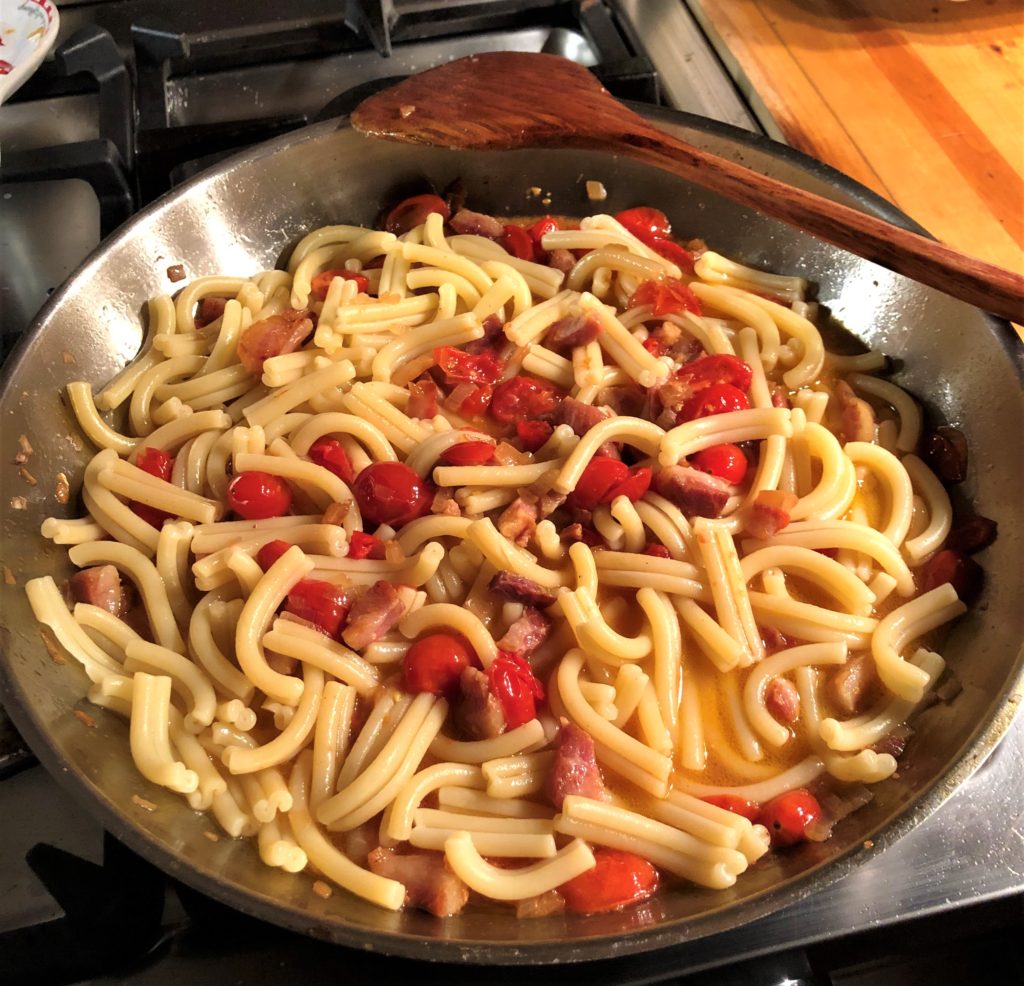 Click here for updated GALLERY II