Pasta Primavera
I'm pretty sure that Pasta Primavera is something that was made up in an Italian restaurant in America. My mother used to make pasta with various vegetables (broccoli, cauliflower, squash) as a type of minestra. Usually she used only one vegetable but if she felt like it, she'd use a variety of what was available. She never included cream and cheese was only added at the table. My mother called it 'Pasta with Vegetables.' I'll call it 'primavera' – that means Spring.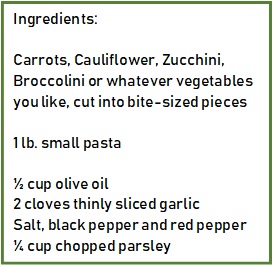 Start a pot of salted boiling water that you'll eventually use for the pasta. Boil the vegetables 1 or 2 at a time until almost tender and remove them to a bowl.
When the vegetables are done add some more salt to the boiling water and begin cooking the pasta. After cooking  the vegetables in that water it's now like vegetable stock. While the pasta cooks in one pot, in a second pot sauté the garlic in the oil. Add some salt, black and red pepper and the parsley.


Add the cooked vegetables and toss to coat with the garlic, parsley and oil on low heat. When the pasta is almost done add it to the vegetables, mix and add
1 & 1/2 cups

of pasta water and mix well. Place in a serving bowl, drizzle with some olive oil and serve with grated Parmigiana cheese on the side.

Click here for updated GALLERY II