Chicken Wing Lollipops
They take some time to prepare but once you get the knack it isn't too bad. They're tasty, easy to eat and worth the trouble.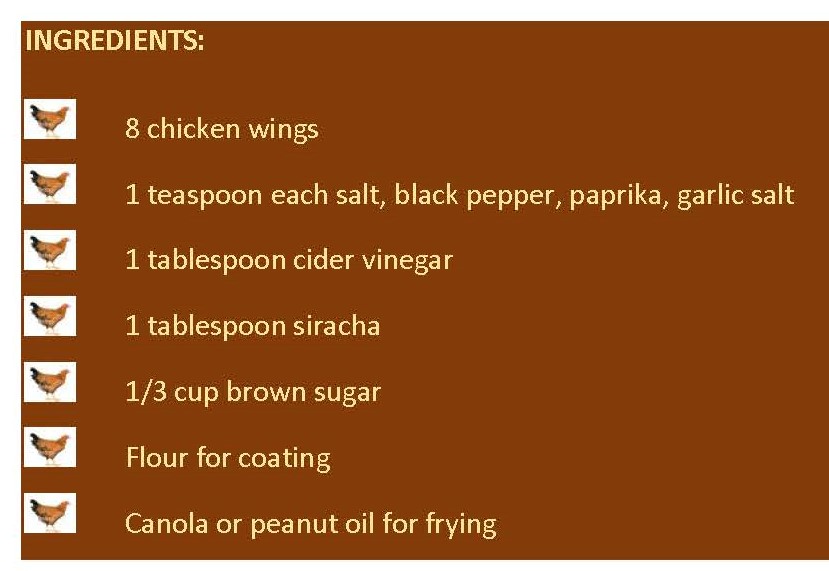 The hard part –
Remove and discard the wing tips. Separate the remaining pieces at the joint.
Starting with the lager piece with the single bone – with a sharp pointed knife separate the skin and tendons from the bone at the narrow end and begin to slide the meat downward scraping with the knife as you go until you end up with a ball of meat at the end of a smooth bone.
For the smaller piece with two bones – separate the two bones at the pointed end. Continue as before but this time with two bones. When you're halfway down begin to twist and wiggle the thinner bone until it breaks off and you can remove it. Slide the rest of the meat down scraping the bone as you go.
---
The easy part –
Mix the salt. pepper, paprika and garlic salt and season the lollipops with it.
Make a marinade of the vinegar, sriracha and brown sugar. Put the lollipops in the marinade and refrigerate for at least one hour.

Remove the wings from the marinade, dripping off the excess. Coat them in the flour, let them rest 20 minutes and fry them until dark golden and the coating begins to caramelize.

---
Click here for updated GALLERY II