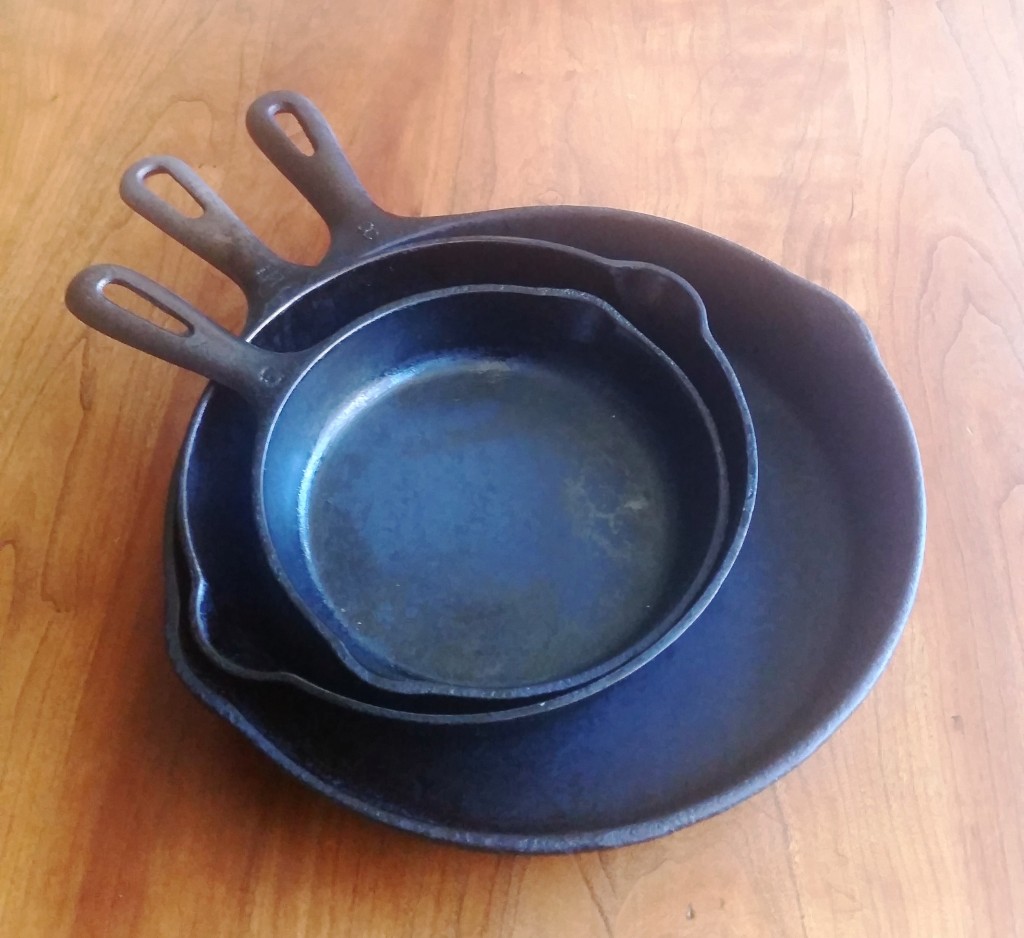 Cast Iron
Cast iron is one of the oldest and best materials for cooking. If seasoned properly it's as non-stick as any of the modern coated pans. It holds heat well and spreads it evenly and can be used both on the stove or in the oven. If you get a new one that's not pre-seasoned, it's simple enough to season it yourself. Pre-heat your oven to 350 degrees. Coat the cooking surface of the pan with a thin layer of Crisco and put it in the oven, upside down, for 1 hour. Put a foil covered baking sheet under it to catch any drippings. Let it cool in the oven for about another hour and it's done. If it's sticky, heat it for another ½ hour. If it's not an even coat, do the whole process again. Sound like a lot of work? Don't worry because you'll only have to do it once.
To clean it after use you usually have to just wipe it with a wet sponge (no soap) and if anything sticks, simply fill it with hot water and let it soak for a while then clean it with a brush, never steel wool. Dry it and it's ready for its next use.
---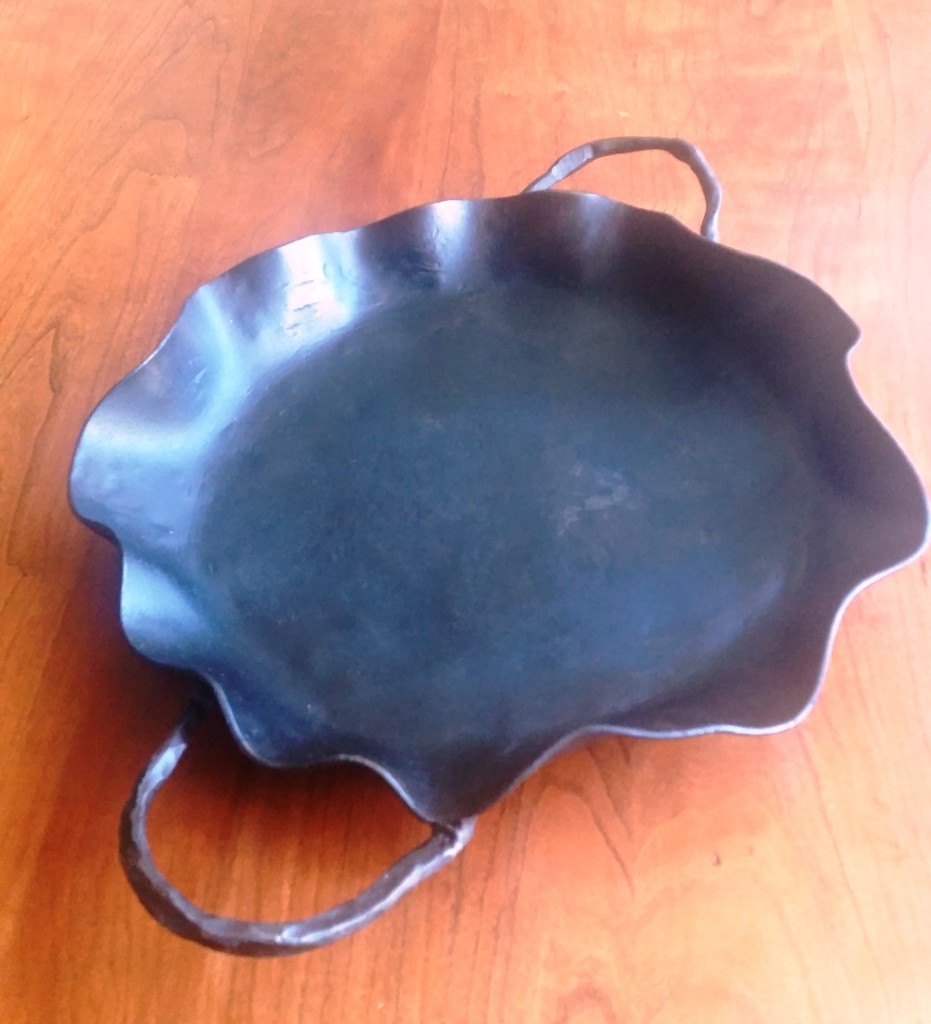 My daughter, Kristina recently gave me a new pan. At first I thought it was just a decorative cast iron serving platter and although it's attractive, it turns out that it's also very utilitarian. It's creator calls it a "ten inch pie pans with handles." I don't often bake pies but so far I've used it for chops, omelets and skillet corn bread. It's lighter than my standard 10 inch cast iron pan, it makes a better serving presentation and it came pre-seasoned – a big plus. It's made by Marsha Trattner, an artist-blacksmith in Red Hook, Brooklyn.  She makes other things in addition to pans. Take a look at her web site:  She-Weld.com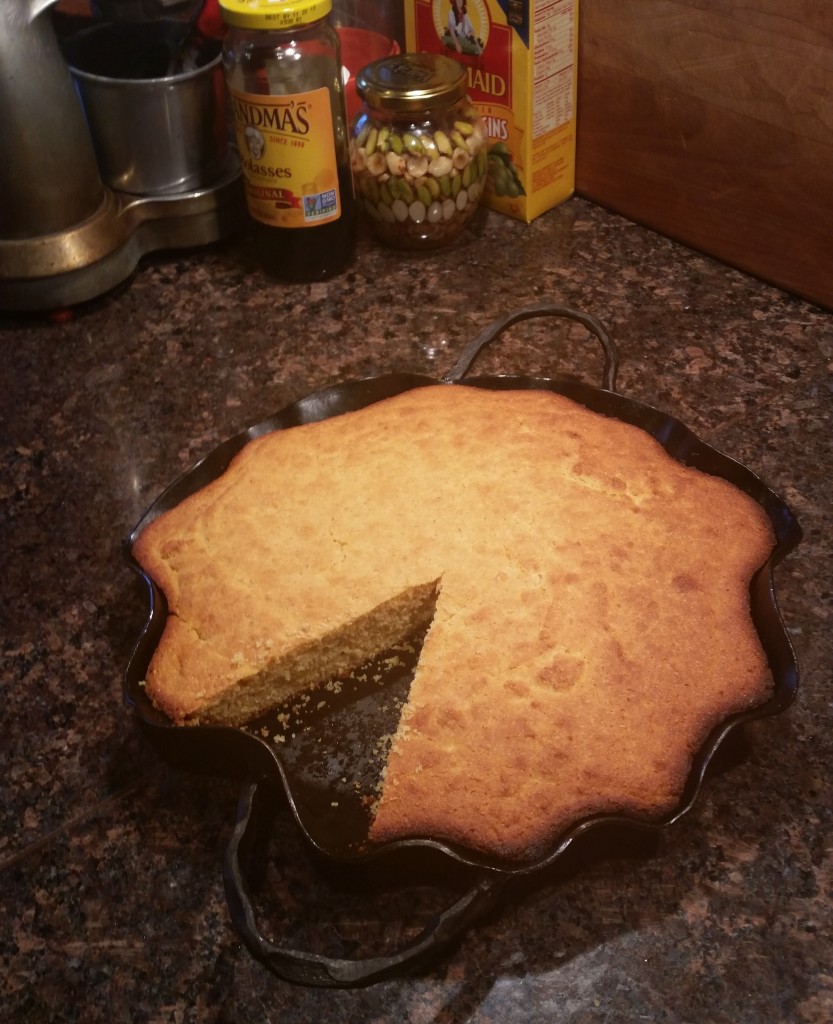 ---
One last cast iron utensil… I got it at a flea market for $20.  A Dutch oven old enough to probably have been used in a fire place. Not very pretty and extremely heavy, it's still the greatest for stews.