Rosettes
"If you get the knack immediately, these are the easiest and prettiest desserts to make; if you don't – you are doomed." – Nicki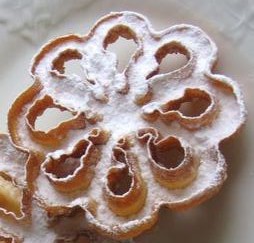 Ingredients: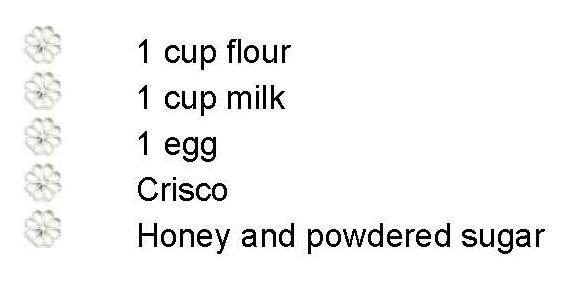 In order to make the rosettes you must have the "irons". These can be purchased in any good house ware store. Irons come in different shapes and sizes, but I only use the rosette shape, probably because it is the only one I have had for the past 30 years.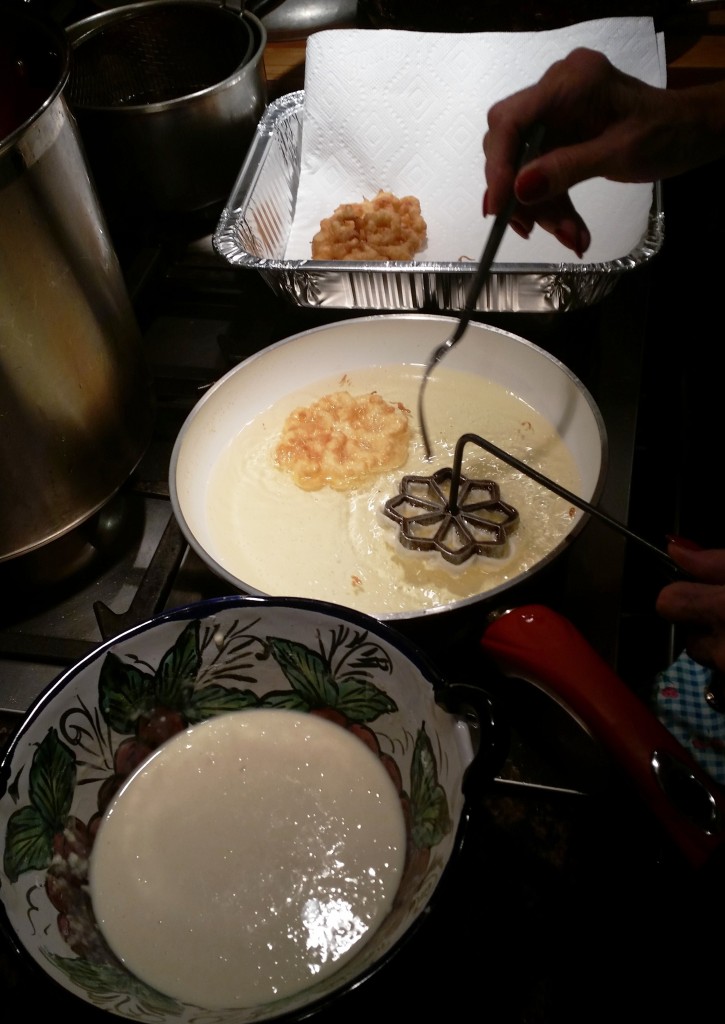 Preparation:
Mix all the ingredients well in a small bowl. Let it stand for five minutes. Place Crisco (not oil or butter, nothing but Crisco. I once tried vegetable oil and had to throw them away. I was not happy, so don't even try anything but Crisco. I don't know why it works so well, but if it was good enough for my mother and it works, it's good enough for me.) in a deep frying pan. The Crisco must be very hot and deep enough to submerge the iron to heat it thoroughly.
When the iron is very hot take it out of the Crisco and put it into the batter. IMPORTANT: Do not cover the top of the iron with the batter, just up to the rim. Then dip the batter-covered iron into the hot Crisco. Hold the handle steady and the batter will fry and the rosette will come off the iron. They may need a little coaxing with a fork. Immediately dip the iron back into the batter. (If the Crisco is hot enough, the iron is hot enough and the gods are with you this will go very smoothly.) Turn the rosettes when they are golden. Remove and drain on paper towels.
Place the drained rosettes in a pretty platter, drizzle them with honey and a good dusting of powdered sugar. They are crisp delights and go well with Asti.
– Nicki