Kipful
Kipful is a Christmas family recipe from Bridget's family (German side). I'll leave it to her –


Open all the packages of butter & cream cheese & let them get to room temperature. Put 1 cup of flour & the salt in the mix master, start dropping in the butter bars one at a time & finish with the cream cheese, then the second cup of flour (I don't really think the order matters, but that's the ritual ) I generally triple the recipe – making it one batch at a time & putting each batch when it's finished into a big bowl. Put in refrigerator until firm – usually over night.
Prep: Preheat a 450 degree oven.
Clear 3 counter spaces – one for flour & rolling out the dough, one for the tray you are loading (do not put on top of stove as this is too hot and the dough melts), and one for powdered sugar when they come out. Leave a space to put the hot tray down & then make a bed of powdered sugar which you will drop the Kipfuls onto when they are still hot. You want one spatula for the dough and a separate one for the powdered sugar.
Get your containers ready by lining them with foil or wax paper or whatever you like and sift a layer of powdered sugar into the bottom of each of them. I generally do all this prep the night before.
Carve out a double handful of dough and put the rest back in the refrigerator. Dust your hands with flour & sprinkle a copious amount on the counter. It's hard as a rock, so just bear down – try to keep it as close to a rectangle as you can get – then use a table knife to slice 3" squares. Use two teaspoons & put a blob of raspberry preserves in the middle of each square. Use the spatula to slide one square free & then pull the diagonal corners up to the middle & squeeze the sides together.
Into oven & start on next batch of dough. Be sure to check to see if they are turning brown before finishing the 2nd
When they are slightly browned, take tray to powdered sugar station & carefully spatula them right side up on to the bed of sugar. Sift more sugar on top. You can now go back & finish the 2nd When it is in the oven, the finished Kipful should be ready to move to your containers. Put a layer of wax paper between each layer to keep them separated.
This recipes should make about 50 kipfuls. Serve cold.
– Bridget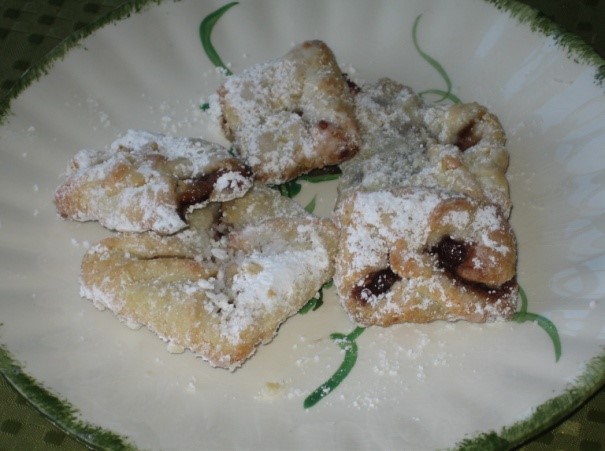 ---
Click here for updated GALLERY II