Marietta's Tomato Sauce
A friend I used to work with and had lunch with almost every day invited me home to dinner with him. He said his wife, Marietta, was Italian like me and a great cook. When I arrived and was introduced to Marietta, we made the standard exchange that Italian-Americans often do – "So, where in Italy are your people from?" Since we were both of Italian descent, instead of the general "Naples," I more specifically said Salerno and instead of "Sicily," Marietta said Trapani. And so, the inevitable cooking rivalry began. She knew her husband's friend was coming for dinner but didn't know I was Italian-American. She made, among other things, what she called simply 'tomato sauce.' She knew I would silently compare it to my family's 'tomato sauce.' Before we started eating, I mentioned that my mother's sister married a Sicilian and learned recipes from her mother-in- law which she introduced to our family. I made it clear that I was familiar with Sicilian cuisine and appreciated it. We put a love of cooking and good food before the old regional rivalry and had a great dinner. Before I left, Marietta wrote down her sauce recipe for me. Keep in mind that you only need just 5 ingredients for a simple tomato sauce – olive oil, garlic, salt, pepper, and tomatoes. This one has a lot more than that! That's a ton of flavor.
Marietta's Tomato Sauce Ingredients:
1 pound of long pasta (ideally perciatelli or bucatini but spaghetti will work)
1/2  cup olive oil
Salt, black, and red pepper
1 medium onion, finely chopped
1/2 lb. chopped beef
1 – 6 oz. can tomato paste
1 cup dry red wine
1 – 28 oz. can of crushed tomatoes
1 sprig of basil
* Sachet – 10 black peppercorns, 1 dried chili, 2 bay leaves, 1 crushed garlic clove
1 – 8 oz. can peas
* Sachet – little cloth bags are available in supermarkets or Google, If you can't find them, cut a white handkerchief into quarters, wrap the ingredients and tie it with a string.
---
Sauté the chopped onion in olive oil, salt, black and red pepper. Don't brown it, just cook until it's translucent. Add the chopped beef and brown it. Add the tomato paste, blend well, and cook about 8 minutes.
---
Add the red wine to the sauce and deglaze the pan. Add the can of San Marzano tomatoes, a sprig of fresh basil, the sachet, and simmer for 30 minutes.
At the end of 30 minutes add the 8 oz. can of drained peas to the sauce, simmer 5 minutes and serve. Serve the pasta with a sprinkle of basil chiffonade, and pass grated Parmigiana around the table.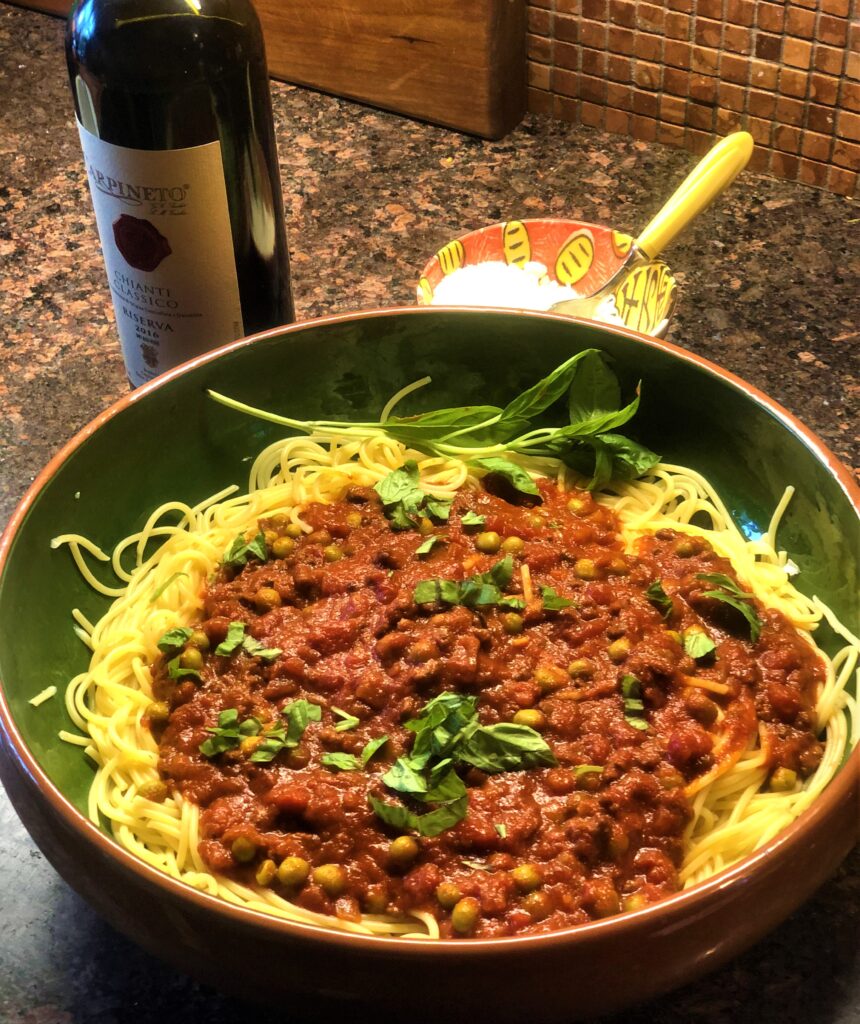 Variations:
It you intend to add additional meat to the sauce (sausage, meatballs, braciole) brown it in a separate pan, deglaze the pan with some wine and add it all to the sauce for that last 30 minutes of cooking.

If you make Sicilian pizza try this sauce without the chopped beef. When the sauce is cool mix in ¾ cup of unseasoned breadcrumbs.
Click here for updated GALLERY
Portfolio and Yelp