Pork Marbella
Marbella, typically made with chicken is very good with pork too. I'm using sliced tenderloin but you can also use chops. This recipe is adapted from Bon Appetit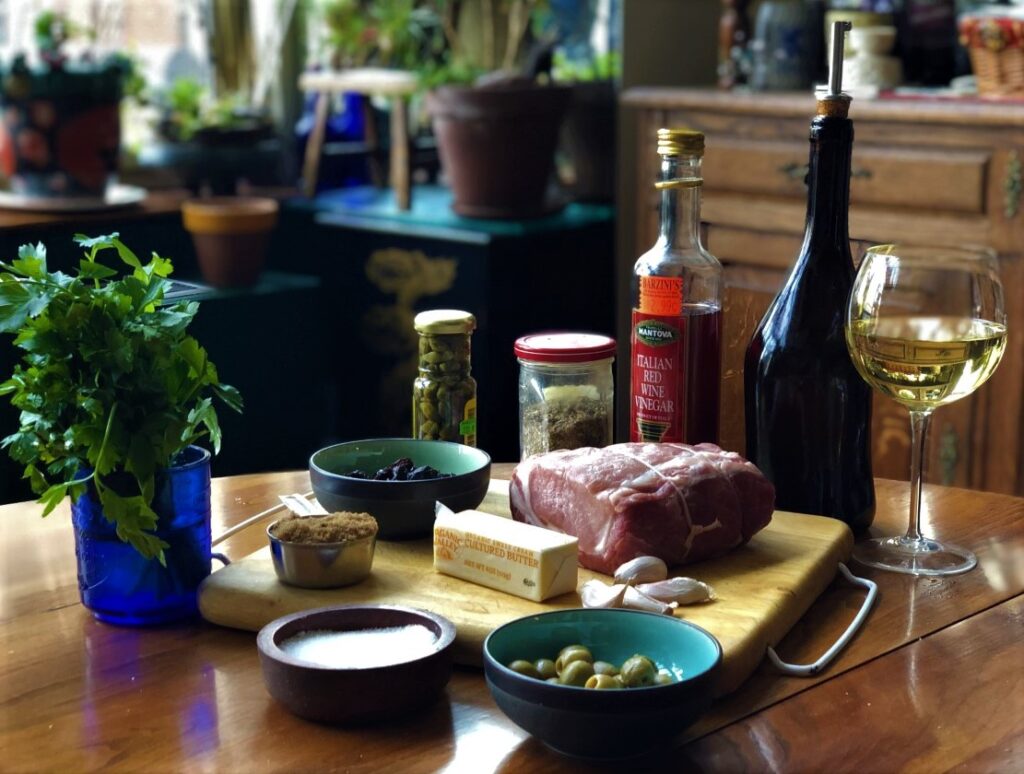 Ingredients:
2 lb. pork tenderloin – ½ to ¾ in. slices

Salt and pepper

1 cup dry white wine

½ cup prunes, pitted and cut in half

½ cup green olives, pitted

½ cup brown sugar

½ cup capers

¼ cup red wine vinegar

4 smashed garlic cloves

¼ cup olive oil plus more for frying

1 tbsp. butter

¼ cup chopped parsley
Season the pork slices with salt and black pepper. Let it rest for 15 minutes.
Preheat the oven to 325o.
Mix ingredients 3 through 10 in a bowl. Add the seasoned pork and let it marinate, refrigerated for 3 hours to overnight.
Remove the pork from the marinade and blot dry with paper towels. Lightly brown in a large pan with olive oil.
Remove the pan from the heat and pour in the marinade, including the olives and prunes. Place on the middle rack in the oven and roast for 20 minutes, turning the pork after 10 minutes. Finish with the pan under the broiler for 5 more minutes.
Place the pork, olives and prunes in a serving dish. Discard the garlic. With the pan on medium heat on top of the stove, whisk in the butter and parsley and stir for a few minutes while the butter melts and the sauce thickens. Pour the sauce over the pork, olives, and prunes and serve.

Click here for updated GALLERY III