Corn Flake Chicken
My mother used to make what she called corn flake chicken. She got the recipe from one of the women's magazines she used to read. The corn flakes and deep fry make this chicken extra crispy. The brining was my idea and so was the addition of Cajun Spice.
Ingredients: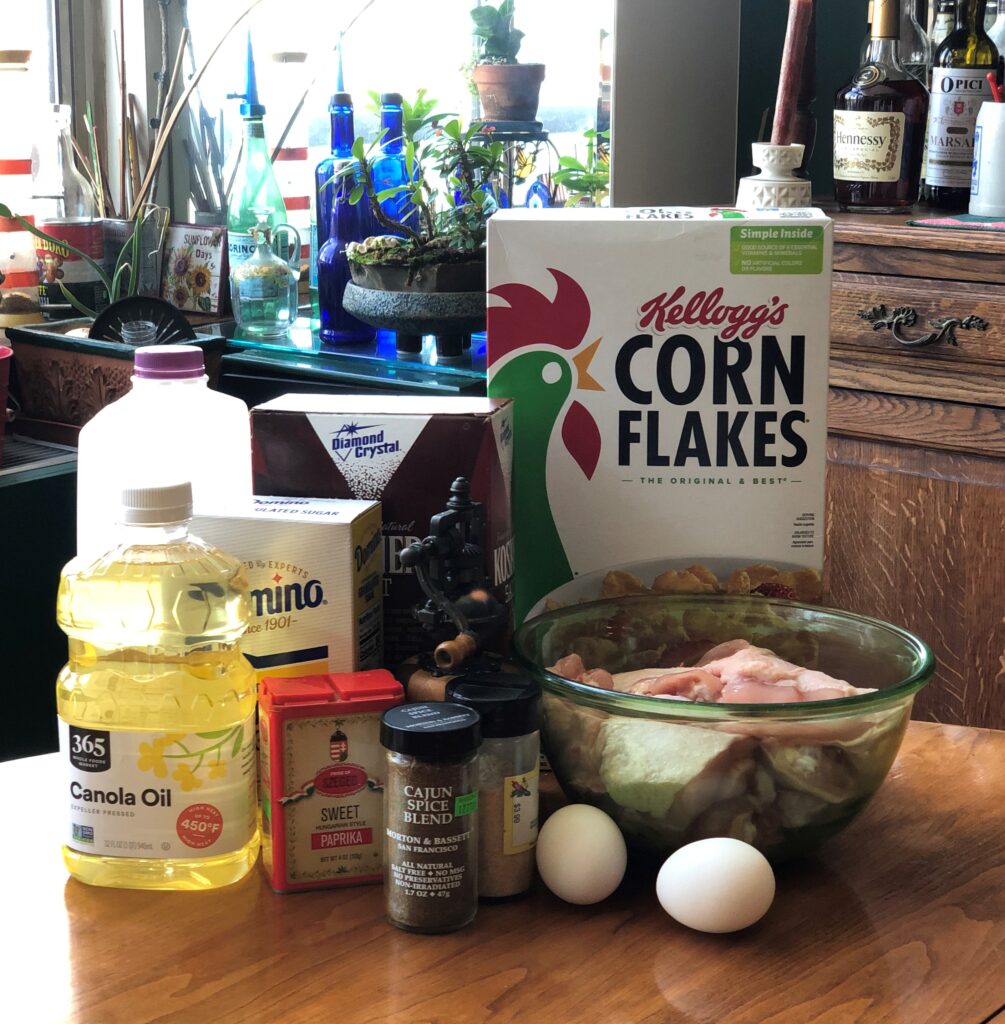 For the brine –
4 cups warm water
4 tbsps. kosher salt
2 tbsps. sugar
For the egg wash –
2 or 3 large eggs
1 tbsp. paprika (hot or sweet)
1 tbsp. Cajun spice
½ tsp. garlic powder
1 tsp. salt
1 tsp. black pepper
3 tbsps. milk
 For the chicken –
½ cup flour
1 ½ cup ground corn flakes
1 whole chicken cut into pieces
Enough vegetable oil to cover chicken in a deep fryer
Cut the chicken into 10 pieces – 2 wings, 2 legs, 2 thighs, and 2 breasts each cut in half. Place the pieces in the brine and leave for at least 3 hours or as long as overnight.
Pre-heat oven to 400o and fryer oil to 350o.
Blot the chicken pieces dry. Dredge in the flour and coat evenly. Shake off excess and place in a dish.
Beat the eggs in a bowl and add the paprika, Cajun spice, garlic powder, salt, black pepper, and milk.
---
You'll need a cup and a half of ground corn flakes to coat the chicken. A 12 ounce box of corn flakes will give you 2 cups. Pour it into the blender and whirl until the consistency is like coarse breadcrumbs.  Dip the floured chicken in the egg wash and let the excess drip off. Press it into the corn flake crumbs and thoroughly coat it.
---
Place the chicken in the 350o oil and fry for 2 – 3 minutes, turning once. You only need to brown the corn flake crumbs. The chicken will cook in the oven. Fry as many pieces as fit in your fryer without touching. Place the fried chicken in a lightly oiled roasting pan and roast for 25 minutes. Drain on paper towels and serve.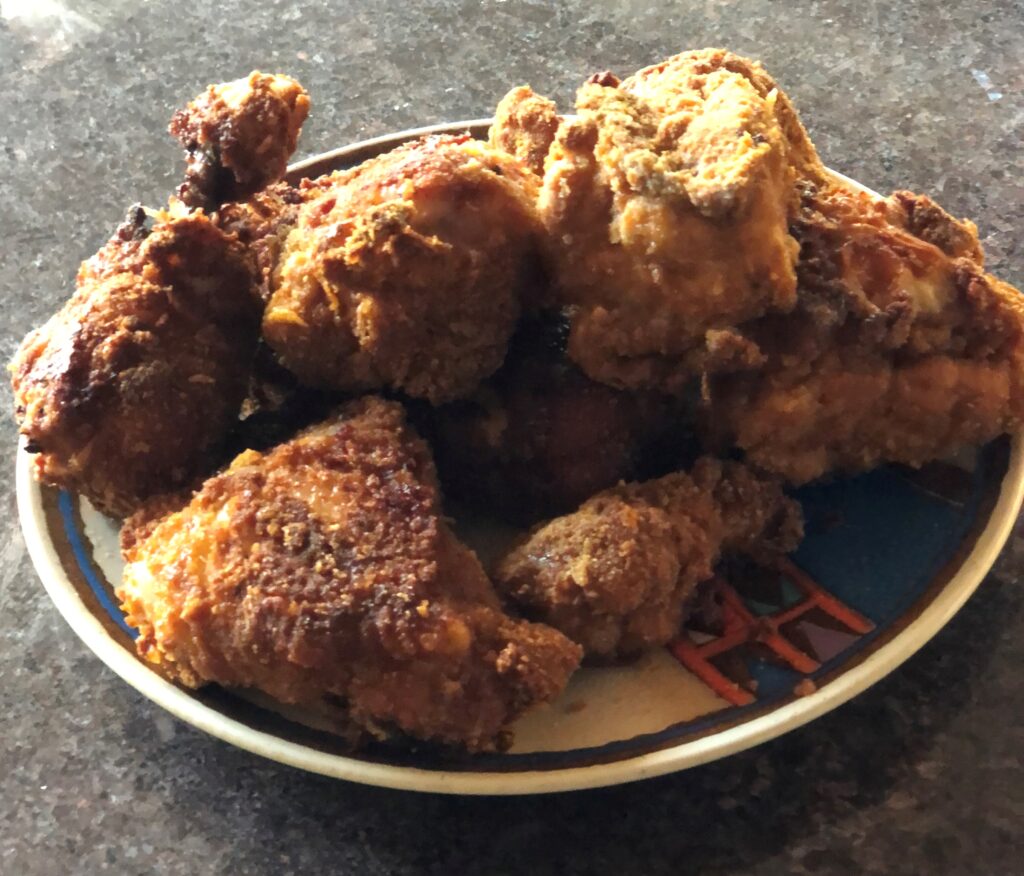 ---
The same recipe, minus the brining and oven, works well with fish too. Just deep fry for a few minutes longer.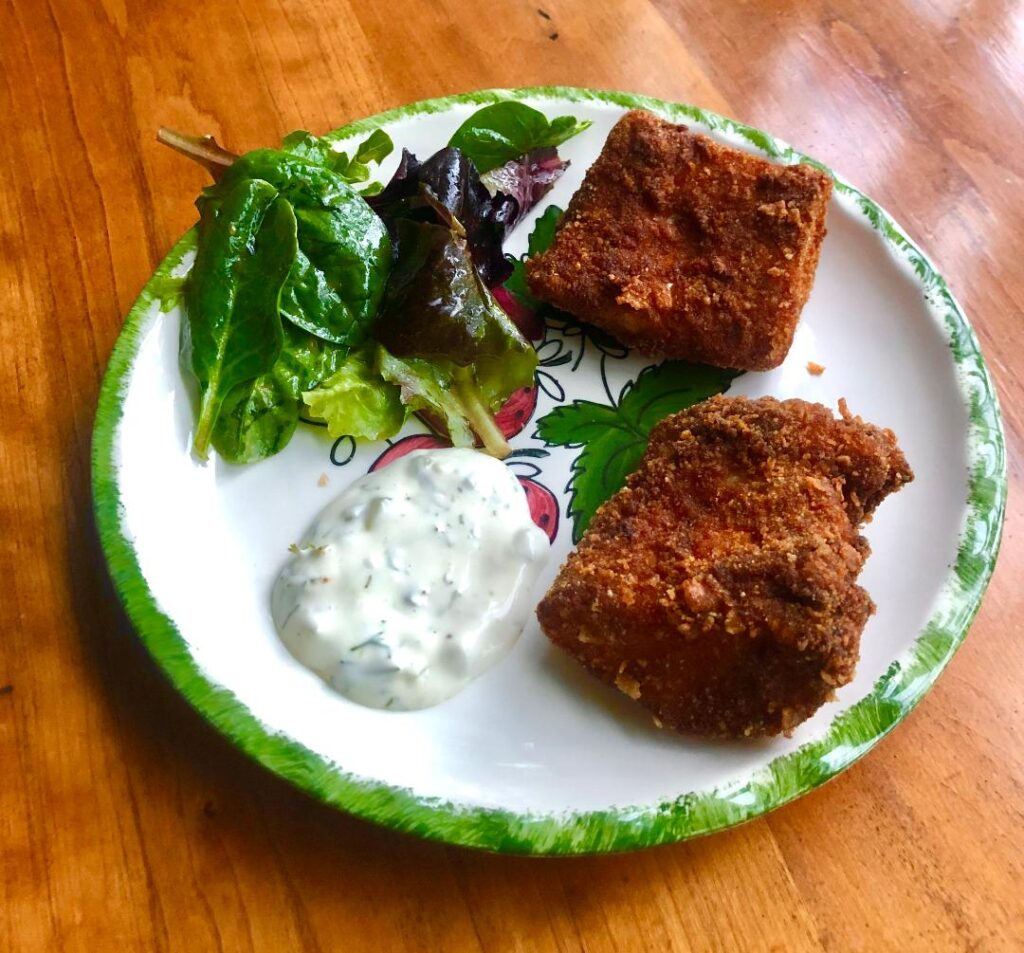 Click here for updated GALLERY
Portfolio and Yelp