Pasta with Mushroom Sauce
Pasta with mushroom sauce is an easy recipe for a rich tasting sauce.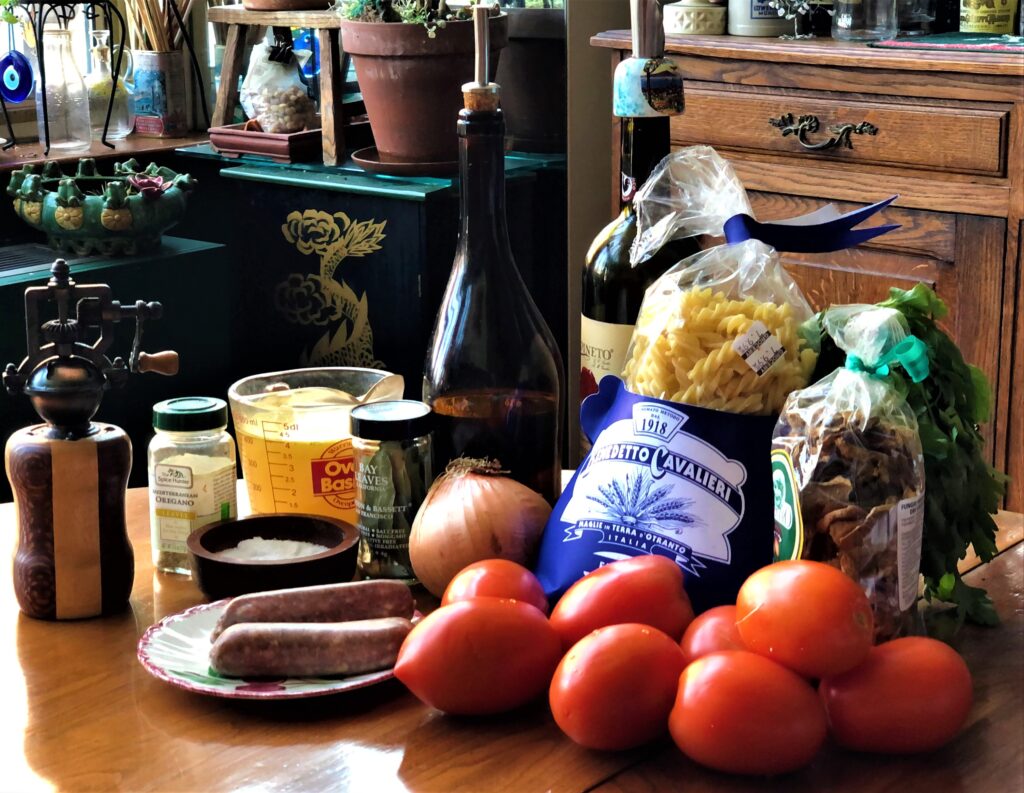 Ingredients:
2 cups chicken stock
1 cup dried porcini mushrooms
3 tbsp. olive oil
1 chopped onion
2 hot or sweet Italian sausages
¼ cup dry red wine
½ tsp. oregano
1 bay leaf
Salt and black pepper
1 lb. short pasta (penne, fusilli, gemelli, etc.)
¼ cup chopped parsley
Put the chicken stock and dried mushrooms in a small pot and bring it to a boil. Remove it from the stove and set it aside.
Heat the oil in a large pan and add the onion. Sauté until translucent. Add the sausage meat and brown it.
Remove the mushrooms and save the liquid. Chop the mushrooms and add them to the pan with the onions and sausage meat.
Add the wine and cook for 5 minutes until the alcohol evaporates. Add the tomatoes, 1 cup of the mushroom/chicken stock, oregano, bay leaf and salt and pepper to taste. Lower the heat and let the sauce simmer for 30 minutes or so until it thickens. If it get's to dry mix in some more chicken stock or pasta water.
While the sauce simmers cook the pasta until almost done. Drain it and add it to the sauce to finish cooking. Sprinkle with parsley and place the pasta in a serving dish. Serve with grated Parmigiana cheese.
Click here for updated GALLERY
Portfolio and Yelp