---
Pesto – Two Ways
---
1. Basil Pesto
Basilico is a beautiful plant and although pesto is very tasty it's just not a pretty sauce. I even tried making it with purple basil – still didn't look terrific but tasted good.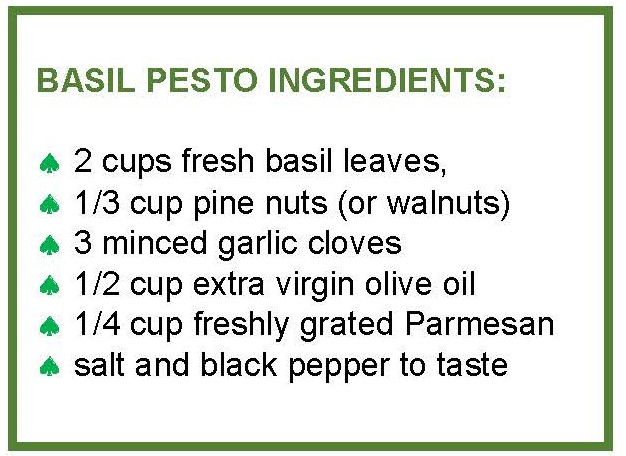 Preparation:
Put all the ingredients but just 1/2 of the nuts, in a food processor or blender. (If you are using walnuts instead of pine nuts chop them coarsely first).
Stop to scrape down the sides of the food processor with a rubber spatula. Add the second half of the nuts and pulse briefly leaving them in a larger size.
---
2.  Sicilian Pesto
This is similar to the standard pesto but the main differences are the addition of tomatoes and there is less basil. This is one of the special sauces that is traditionally served with only one particular type of pasta – bussiate. It's made by wrapping pasta dough around a round, skewer-like piece of wood, in Italian called a buso, to form a spiral. It makes a short cork screw shape that's good for holding onto the pesto. If you can't get bussiate, try gemelli, spiralini or even short fusilli.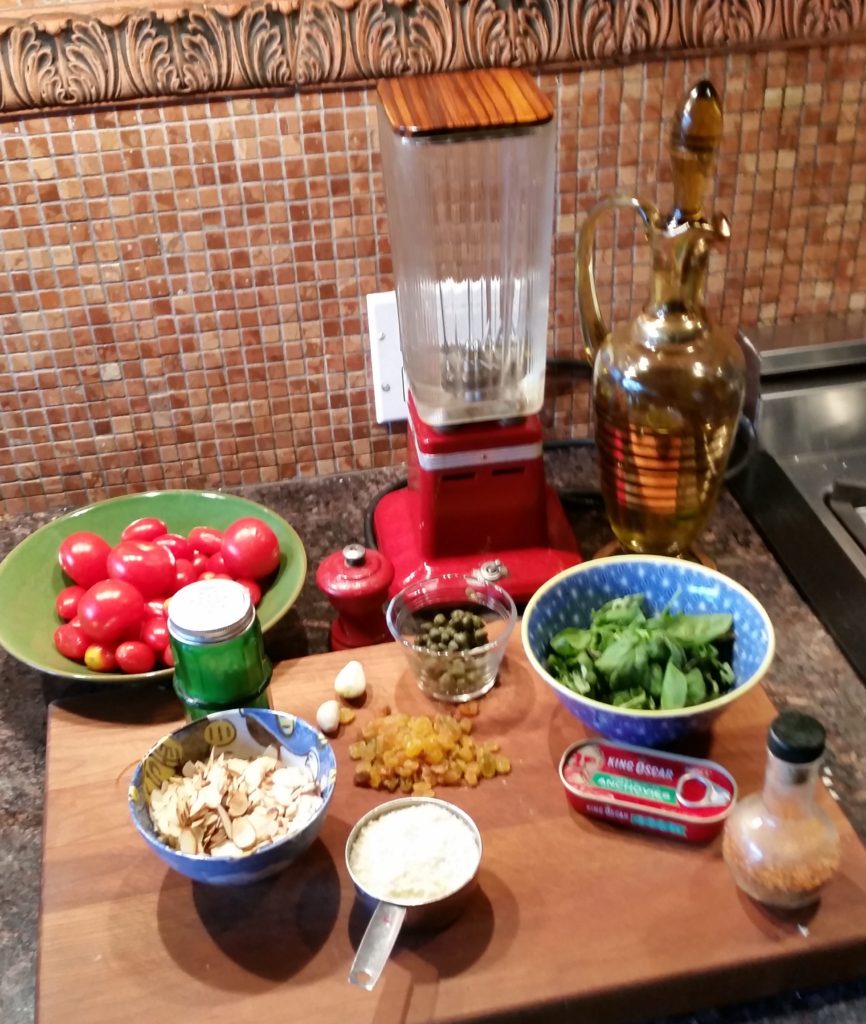 Preparation:
Put the tomatoes in a blender or food processor and finely chop. Then pour the chopped tomatoes into a strainer and drain the liquid and discard. Put the tomatoes with all the other ingredients back into the blender or processor until finely ground.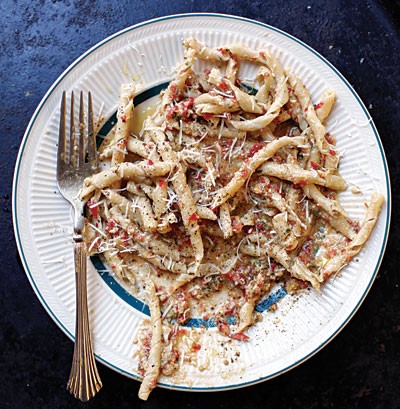 ---
For both of the above recipes:
The sauce just needs to be at room temperature, not cooked. If it's too thick, thin it with a little pasta water and then mix it with the pasta. Tear a few fresh basil leaves and sprinkle over the pasta before serving. Serve with extra cheese.
FYI – Pesto doesn't have to made with basil. It's simply a sauce made using a mortar and pestle (pestello in Italian), or it's modern equivalent, a blender or food processor.
Click here for updated GALLERY II