Venezuelan Liver and Onions
Not everyone likes liver. I think that's more because of the way liver is prepared than what it actually tastes like. Lots of people over cook it, giving it an unpleasant texture. The key to tasty liver is to serve it rare. Fry it quickly in a hot pan for just a few minutes until the exterior is brown. That's all.

Ingredients:
3 tbsps. olive oil for frying
1 to 1 ½ lbs. calf's liver cut into strips
Salt and black pepper
2 tbsps. butter
3 or 4 thinly sliced onions,
3 minced garlic cloves
4 ozs. white wine
Fresh parsley, chopped
Pat the room temperature liver dry and season with salt and pepper.



Heat a large pan over medium-high heat. Add 2 tablespoons of oil. When the oil is hot add the liver strips and fry until browned on both sides. Don't crowd the pan or the liver will steam instead of brown. Remove the liver and set aside on a plate.
Add the remaining tablespoon of oil and the butter to the same skillet. Add onions and sauté until soft and translucent. Add the garlic to the onions and sauté and blend for about 1 – 2 minutes. Add the liver back to the skillet and pour in the wine. Let the wine reduce for 2 – 3 minutes. Remove everything to a serving platter, pour the pan drippings over it and sprinkle with parsley.
---
Gravy for Venezuelan Liver and Onions – If you'd like, use the pan drippings to make a gravy. Add 2 tablespoons of flour to the drippings. Stir constantly for 1 -2 minutes over medium heat, then add 1 cup of beef stock. Cook and stir until thickened. Serve over liver and onions.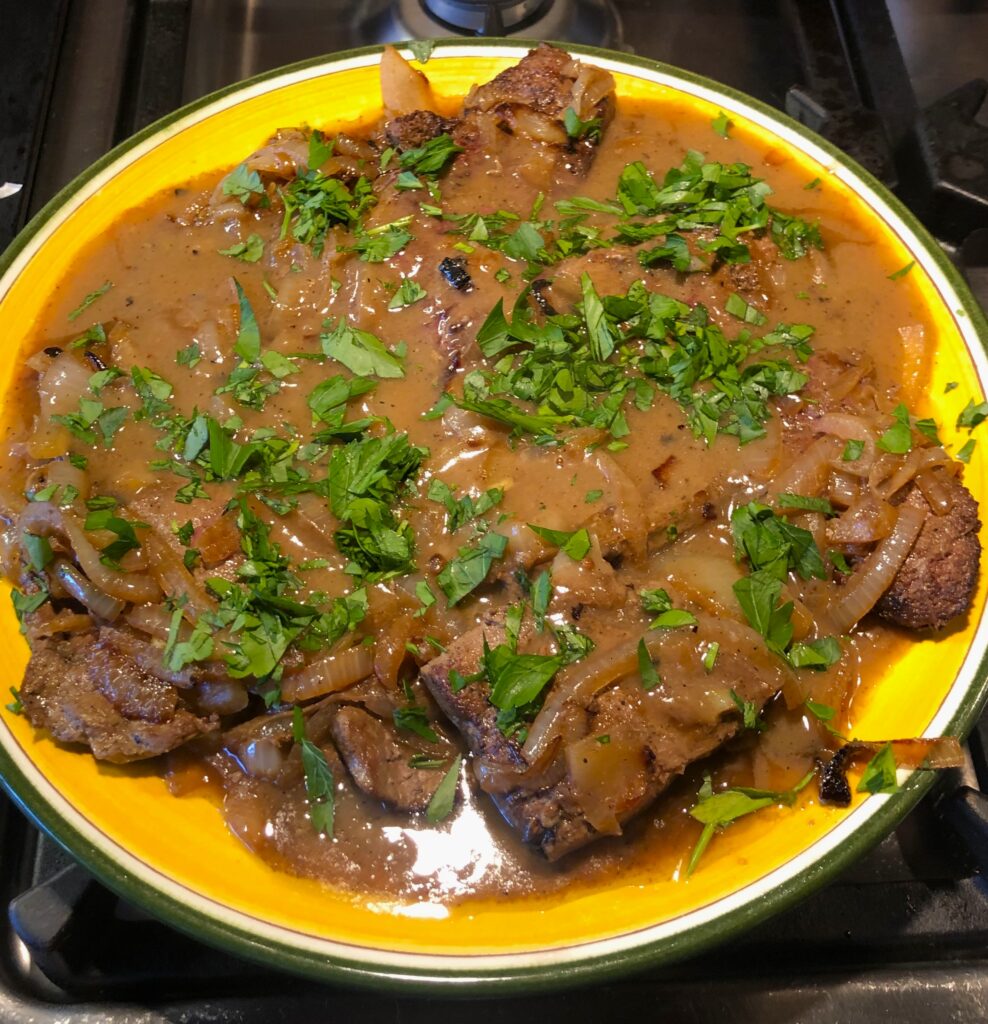 Click here for updated GALLERY
Portfolio and Yelp