Caesar Salad 2

In 1924 Caesar Salad was created by an Italian American chef, Caesar Cardini, at the Caesar Hotel in Tijuana. It's possible that anchovies weren't used in the original recipe but there was definitely no mayonnaise or vinegar. I posted a Caesar Salad recipe in the past but this one is a little more authentic.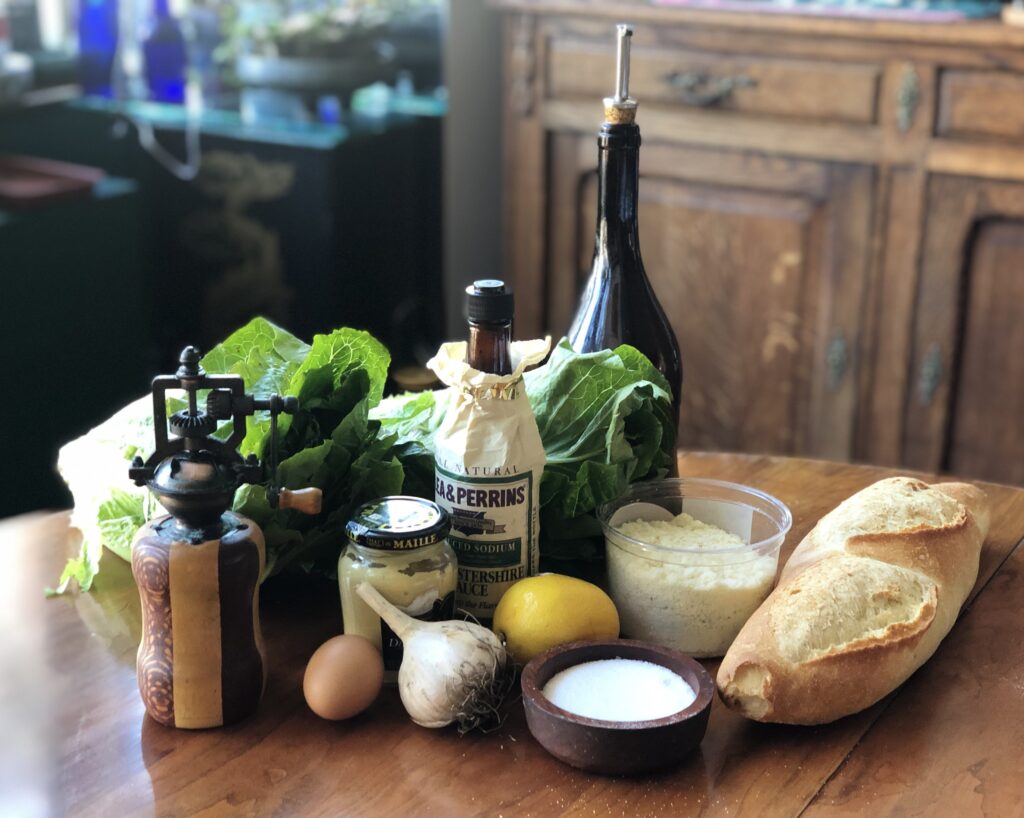 Ingredients:
1 clove of garlic
½ tsp black pepper
1 tbsp Dijon mustard
5 anchovies finely chopped
2 tbsp of lemon juice
1½ tbsp. of Worcestershire sauce
¼ cup Parmigiana cheese
1 egg yolk
½ cup of extra virgin olive oil
A day-old loaf of Italian bread
3 tbsp olive oil for croutons
Salt and pepper to taste
2 medium heads of romaine lettuce with the outer leaves removed
Extra Parmigiano Reggiano cheese to grate onto the salad
Dressing: (ingredients 1 to 9)
Mash the garlic clove, black pepper, mustard and anchovies in a mortar and pestle until it forms a paste. When it's well mashed, add in the Parmesan a bit at a time until well incorporated. Transfer the mixture to a large bowl and mix in the lemon juice and Worcestershire sauce.
In another bowl, separate the egg yolk from the egg white and beat the yolk.
Mix the beaten egg yolk in with the rest of the ingredients that you've already mixed together. Mix in the ½ cup of olive oil into the other ingredients.(You can double the amount of ingredients and refrigerate half of the dressing for use at another time.)
---
Croutons: (ingredients 10 to 12)
Cut or tear the bread into ½ to 1-inch cubes and place in a bowl (about 3 cups). Add the 3 tablespoons of olive oil. Mix the bread with the oil, tossing until it is all well coated.Spread the coated bread in a single layer in a pan and cook over medium high heat, shaking the pan a few times, for about 5 to 8 minutes until the bread pieces are crisp and slightly browned.

---
Assembly: (ingredients 13 & 14)
Remove some of the outer leaves and cut the Romaine into one-inch strips. Add it to a salad bowl and pour in enough of the dressing to coat the lettuce. Add the croutons, some grated cheese, toss again and serve.
Click here for updated GALLERY
Portfolio and Yelp