Basic Bolognese
Different people make Bolognese differently. My recipe is for basic Bolognese. I don't used any garlic because the sofrito (carrot, onion, celery) is enough for the aromatics. Some people use pancetta, but with a mix of pork and beef it isn't necessary. Often recipes call for chicken or beef stock but that's not needed with a pound of chopped meat already in the sauce. Don't be tempted to add and basil, oregano, bay leaf or any other herbs or spices. They're not needed. On American menus you sometimes see "Spaghetti a la Bolognese." Spaghetti should never be served with Bolognese sauce, only broad long pasta like mafalda, pappardelle, tagliatelle, fettuccine, and sometimes rigatoni.
Ingredients:
1 diced carrot
1 diced medium onion
2 diced celery stalks
Olive oil
½ lb. each – beef and pork
1 6 oz. can tomato paste
1 28 oz. can crushed tomatoes
1/2 cup dry white or red wine
salt & black pepper to taste

Dice the onion, carrot, and celery. That's the sofrito, the base for many Italian sauces. Heat 3 tablespoons of olive oil in a large pot and sauté until soft, about 10 minutes. Add the tomato paste and stir. Cook for another 5 minutes. Remove the sofrito to a bowl and set aside.
---
Add 2 tablespoons of oil to the pot and brown the meat, breaking it up with a spoon as it cooks. Return the sofrito to the pot. It's fine if some of the meat is still a little pink.
---
Now add the wine and deglaze the pot. Stir and cook for 5 minutes and then pour in the crushed tomatoes and 2 cups of hot water. Turn the heat down to low and simmer for 2 hours. If the sauce gets too thick as it simmers add more water. While the sauce is simmering, start a pot of boiling water for the pasta. I'm using fettuccine. Drain the pasta when it's done and save a cup of the pasta water.
---
To serve, put a sauté pan on low heat. Put some of the sauce in the pan, add some pasta, and stir with a little pasta water. Place in a dish and sprinkle with Parmigiana cheese.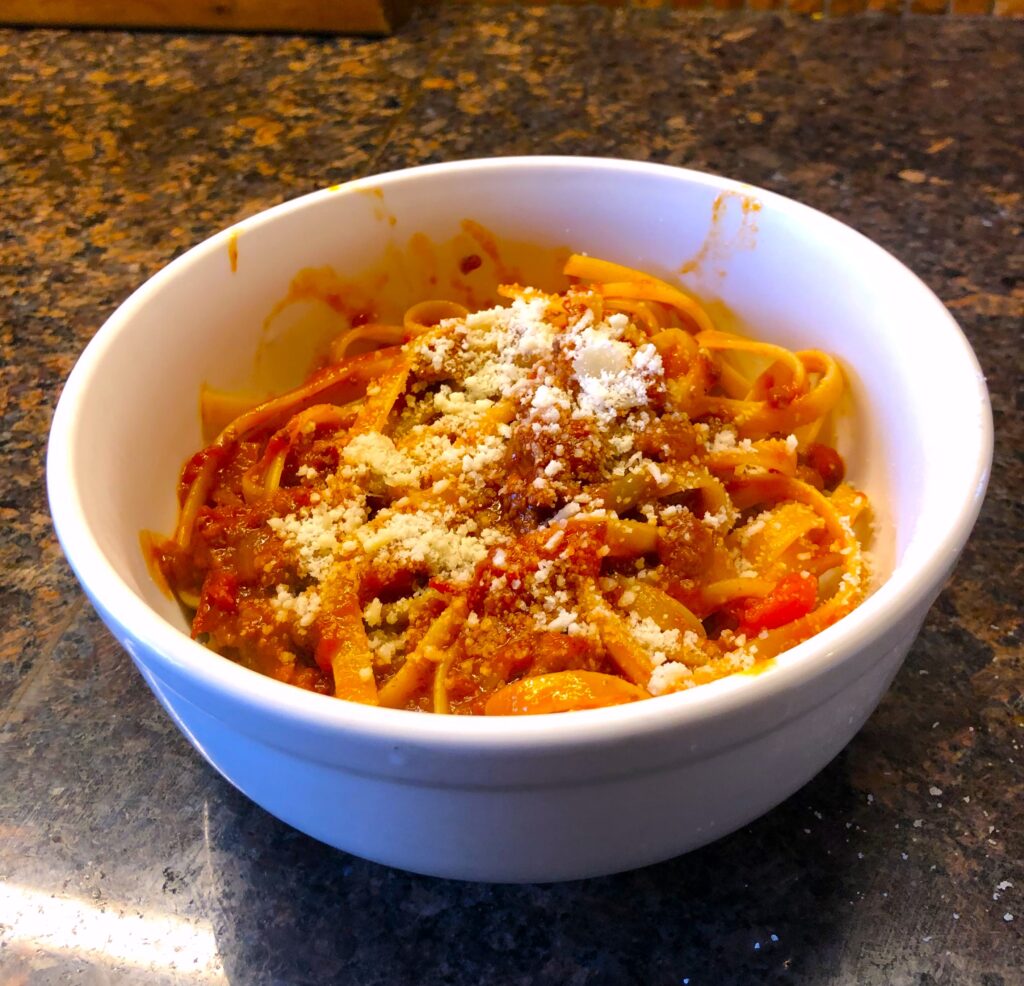 Click here for updated GALLERY
Portfolio and Yelp