Peposo Beef
If you like black pepper, you should try Peposo Beef. It's a simple recipe but with 3 hours of simmering be sure to give yourself time to make it. This is a basic recipe, and you can make some variations. I think the carrots add a bit of color and texture, but you can leave them out. Three hours of simmering soften the pepper corns and make them very edible but if you want you can add them in a spice bag that you can remove before serving. One thing you shouldn't change is the wine. This is a Toscano dish and should be made with Chianti.

Ingredients:
3 tablespoon olive oil
4 cloves crushed garlic
1 tbsp. black peppercorns
¼ cup chopped fresh herbs (your choice – parsley, thyme, oregano, etc.)
1 – ½ lb. stew beef cut in chunks
2 cups of Chianti
4 or 5 carrots cut in ¾ inch pieces (optional)

Heat the oil in a pot on medium heat. Add the crushed garlic cloves and peppercorns and cook for one minute. Add whatever herbs you're using and then add the meat. Sear until its lightly browned on all sides.

---

Add the wine, cover, and simmer on a low heat for about 1 hour. If it gets too dry add some water and continue simmering. Add 4 cups hot water, and the carrots if using, and cover the pot. Allow it to simmer slowly for another 2 hours, checking regularly to see that the liquid has not evaporated completely. Add water if necessary to keep the meat covered.
After 2 hours remove the lid, and let the liquid evaporate until the meat is left in a thick brown juice.
---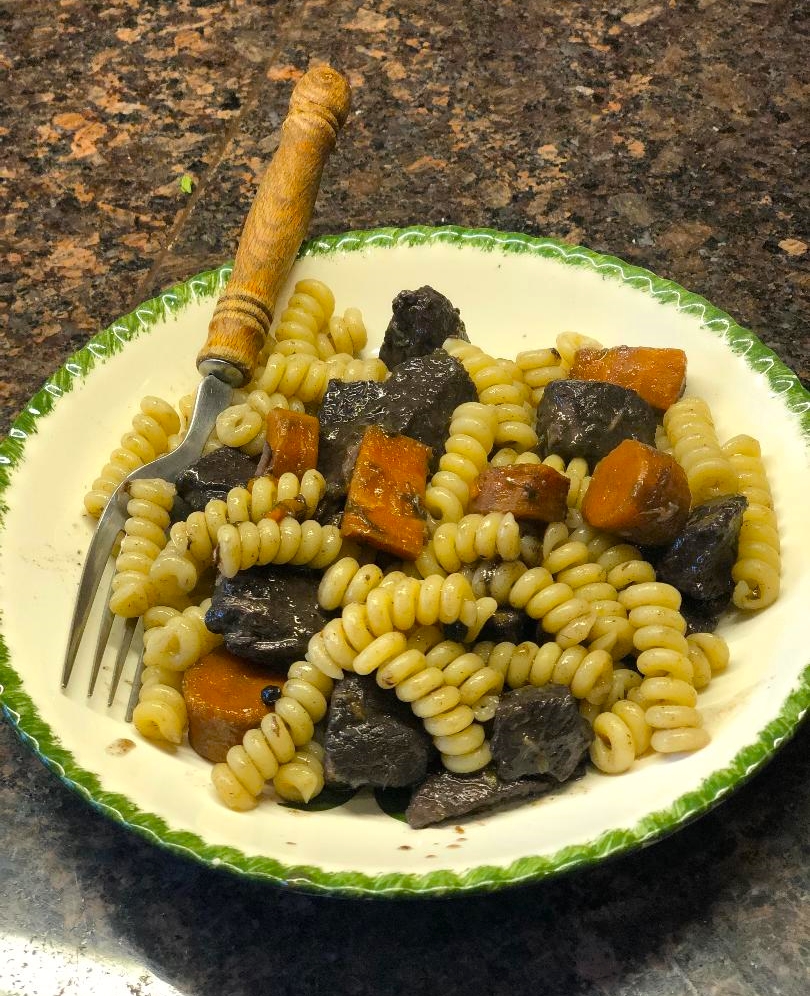 Peposo Beef is traditionally served with polenta. I like it with pasta.
Click here for updated GALLERY
Portfolio and Yelp