Pomegranate Chicken Stew 
Pomegranate Chicken Stew (Koreshe Morgh Nardooni) is a northern Iranian winter dish. I got this recipe from the New York Times (Naz Deravian). It's a perfect main course served with rice.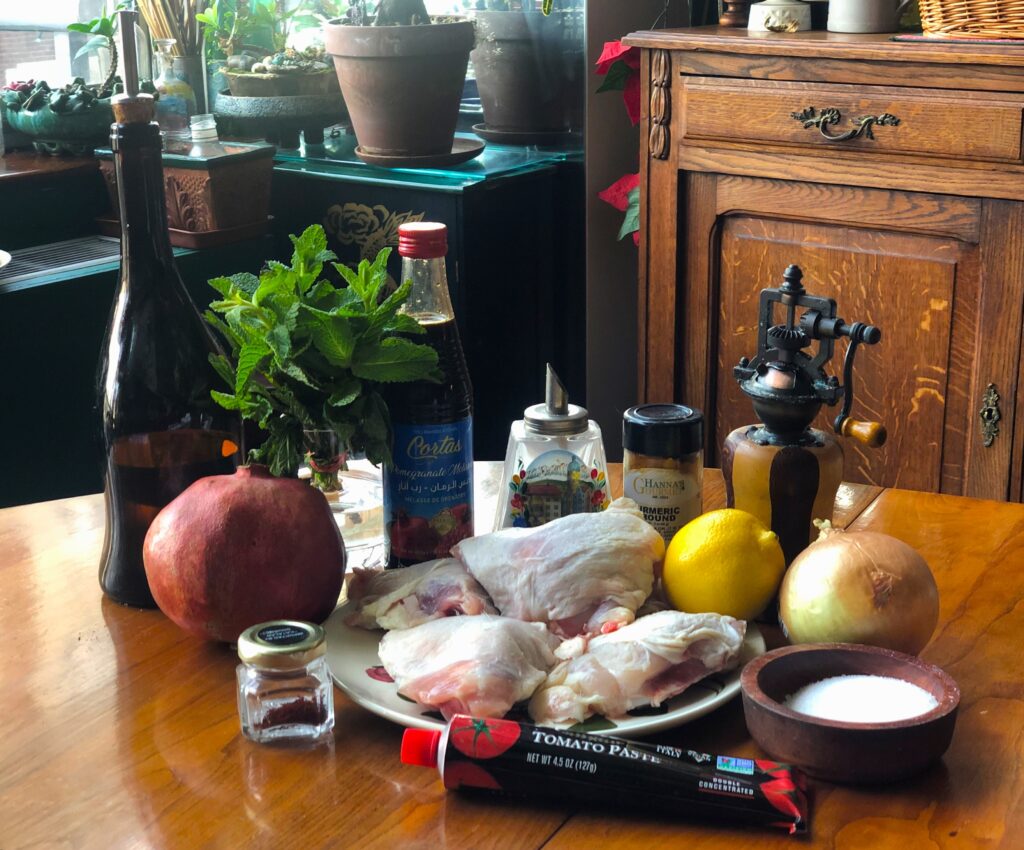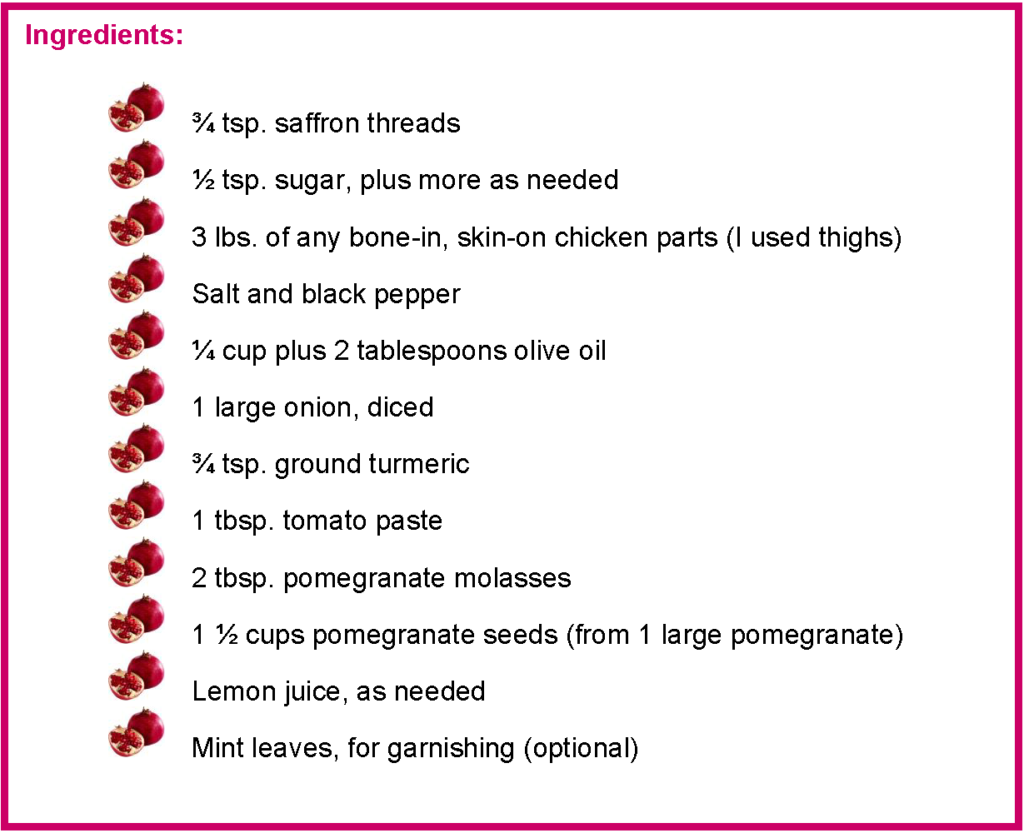 How to de-seed a pomegranate.
In a small bowl, grind the saffron with the handle of a wooden spoon. Add 2 tablespoons of hot water, stir, and let it steep.
The Chicken:
Season the room temperature chicken parts with salt. Heat ¼ cup of oil in a large frying pan and add the chicken skin side down. Turn and cook until each side is lightly golden. Cook it in batches if you have to so you don't crowd the pan. Remove the chicken to a plate. Discard all but ¼ cup of oil/chicken fat from the pan.
Put ½ of the diced onion in the pan and cook for 10 minutes until translucent – don't brown. Add salt, black pepper and the turmeric. Stir and then add the chicken parts and any drippings back to the pan. Coat the chicken with the onion-turmeric mix and leave it skin side up. Add 1 ½ cups of water and deglaze the pan. Bring it to a boil over medium-high heat, then reduce the heat, cover, and gently simmer the chicken for 25 minutes.
The Pomegranate Sauce:
While the chicken is cooking – In a small pan, heat 2 tablespoons of oil over medium heat. Add the remaining half of the diced onion and cook, stirring occasionally, until soft, about 10 minutes. Season with salt, and remaining ¼ teaspoon of turmeric, and stir for about 30 seconds. Reduce the heat to medium-low, stir in the tomato paste, about 1 minute. Add the pomegranate molasses, then stir in 1 ¼ cups pomegranate seeds. Save the rest for garnish.

---
Add the pomegranate sauce and the saffron water to the chicken, gently stir, and simmer uncovered over medium heat until the sauce reduces by about half and the chicken is tender, about 25 minutes. Every once in a while, spoon a little sauce over the chicken. If the sauce reduces too quickly, reduce the heat to medium-low or low. Check for seasoning and add a little sugar if the pomegranate molasses is too sour. If your sauce is too sweet, balance it with a little lemon juice.

---
Garnish with reserved pomegranate seeds and mint.  
Click here for updated GALLERY
Portfolio and Yelp