Braised Chicken with Olives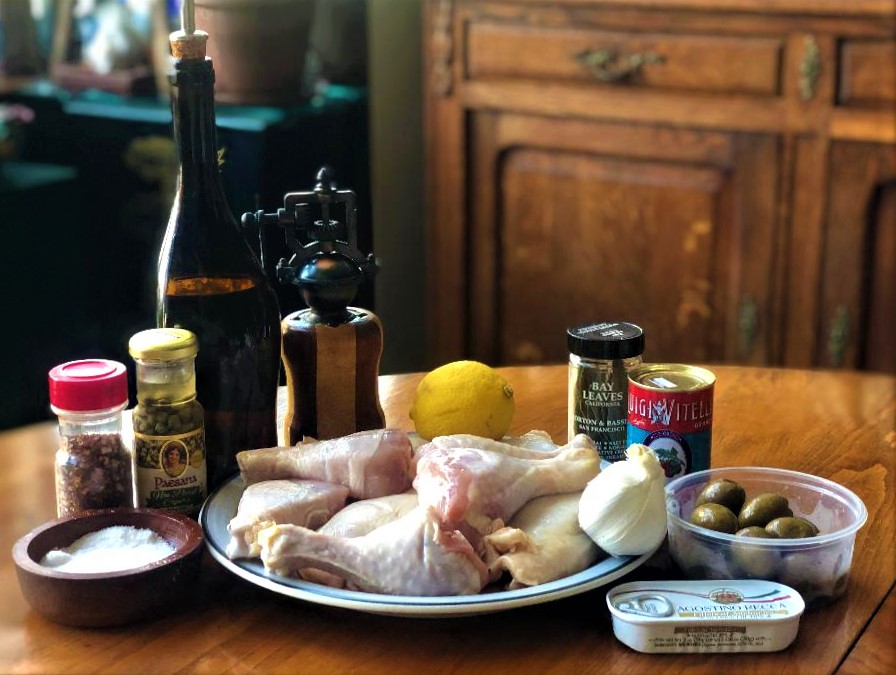 Ingredients:
3 lbs. of chicken pieces (I used legs & thighs)
Salt and black pepper
3 tbsp. olive oil
3 thinly sliced garlic cloves
5 anchovies packed in oil
3 tbsp. tomato paste
1 cup green olives roughly chopped and rinsed
2 tbsp. rinsed capers
2 bay leaves
2 strips of lemon zest
Red pepper flakes to taste
1 cup white wine and 1 cup water
Pre-heat oven to 350o.
Pat chicken dry and season with salt and pepper. Heat the oil in a large pan and cook the chicken until browned on both sides. Remove the chicken and all but 4 tablespoons of the fat and oil.
There's nothing like the bottom of a Coca Cola bottle for smashing olives to remove the pit.
---
Add the garlic and anchovies to the pan and cook for 3-4 minutes. Add the tomato paste, olives, capers, bay leaves, lemon zest and red pepper. Blend and cook for 5 minutes. Add the wine and water, mix well.
Return the chicken to the pan. Spoon some of the sauce over the chicken and place the pan the pre-heated oven for 30 minutes.
---
Remove the chicken to a serving dish. Check the sauce for seasoning and remove the lemon zest and bay leaves. Pour the sauce over the chicken and serve.
Click here for updated GALLERY
Portfolio and Yelp