Chicken Vesuvio
Chicken Vesuvio is a standard in Chicago Italian restaurants but I got this recipe from a friend who owns a pizzeria in New York. He calls it Chicken and Potatoes but served in a Chicago tratoria it becomes Chicken Vesuvio. I used boneless, skinless thighs but you can use any parts that you like.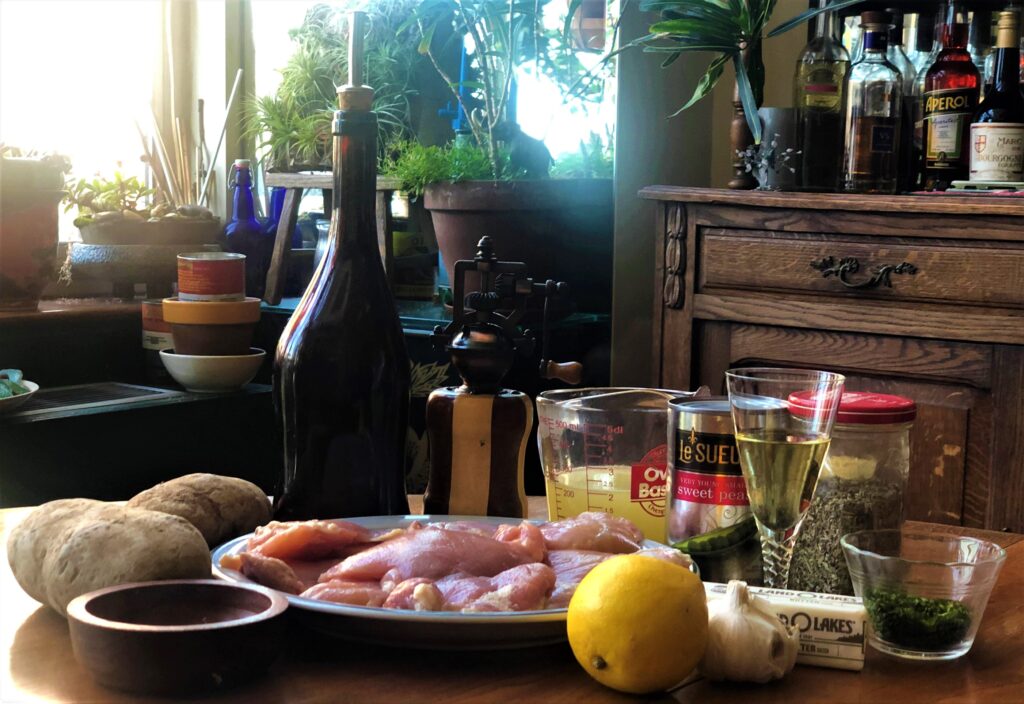 Ingredients:
2 large russet potatoes cut into wedges
5 tbs. olive oil divided
1 ½ tsp. dried oregano divided
5 or 6 chicken thighs
4 tbs. butter
3 thinly sliced garlic cloves
1 cup chicken stock
¼ cup dry white wine
1 can of peas
Salt and black pepper
Juice of ½ lemon
Chopped parsley
Set oven to 425 degrees.
Toss the potatoes with salt, pepper, ½ tsp. oregano, and 3 tbs. oil until they're well coated. Spread them out evenly in a baking dish and roast for 30 minutes, turning halfway.
While the potatoes are cooking, season the chicken with salt, pepper, and 1 tsp. of oregano. Heat the remaining oil in a frying pan and without crowding the pan, lightly brown the chicken on both sides (about 10 minutes) and remove to a plate. The chicken will continue cooking later in the oven.
Add the butter to the pan on medium heat. Lightly sauté the garlic (about 3 minutes) and then add the stock and wine to the pan. Simmer and cook for about 5-8 minutes while deglazing the pan.
Pour the butter/garlic mixture over the potatoes in the baking dish and place the chicken over the top of the potatoes. Roast about 20-25 minutes. Add the peas and finish cooking under the broiler for 2-3 minutes.
Arrange the potatoes and chicken in a serving dish and pour the pan juices over it through a strainer to remove the sliced garlic (skip the strainer if you love garlic). Squeeze the lemon and sprinkle the parsley over the dish and serve.
Click here for updated GALLERY III
Portfolio and Yelp