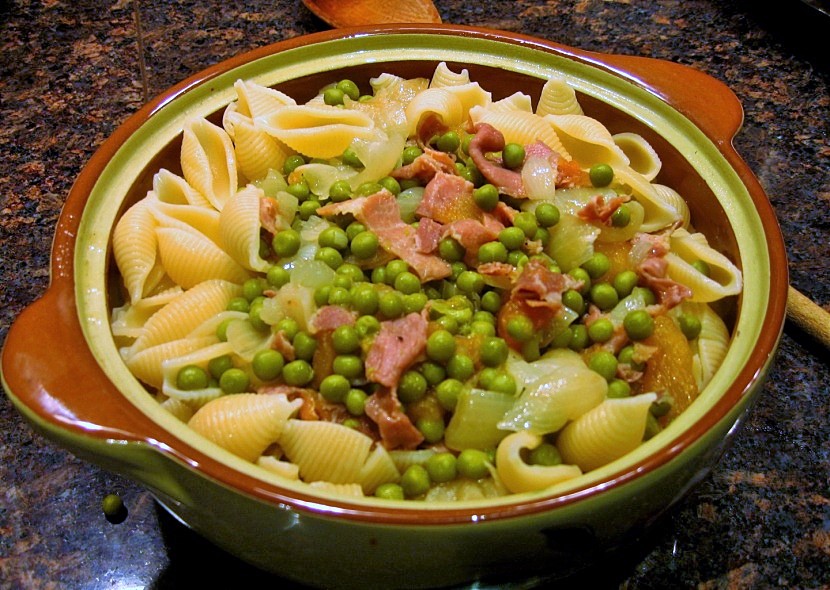 Pasta Piselli 
A simple recipe my mother made often as a first dish. Standard home cooking that I've never seen on a restaurant menu. Some of the peas nestle into the conchigliette all by themselves – a nice touch.
Ingredients:
7 or 8 peeled, cored & sliced cipollini (or substitute ½ onion, chopped)
½ tspn salt
½ tspn black pepper
¼ tspn red pepper flakes
1 oz prosciutto, (2 or 3 slices cut into 1 inch pieces)
1 tomato, peeled, seeded and chopped
14 oz. fresh, frozen or canned small peas
1 lb conchigliette (small shells)
Preparation:
Pasta – Boil water in a 3 quart pot. When the water boils add the pasta and cook until aldente (approximately 7-8 minutes).
Sauce – Sweat the cipollini in oil with salt and black and red pepper in a pot on low to medium heat. Add the prosciutto and fry for a few minutes. Add the tomato and cook until it breaks down, about 8 minutes. Add 1 cup of the pasta water and the peas – fresh or frozen, cook for 5 minutes.
When pasta is cooked, toss with sauce. Add more pasta water to make it wet but not too soupy.